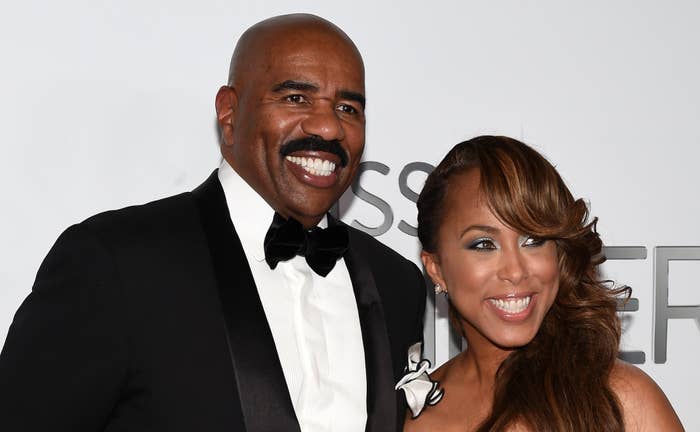 Steve Harvey has addressed the swiftly spread rumors of infidelity involving his wife, Marjorie Bridges.
Speaking to the crowd at a recent event in Atlanta, the comedian and TV personality made sure to note that he and his wife were both "fine." He also questioned the pastime of starting such rumors to begin with, urging those responsible to seek other hobbies.
"Before I get started, just let me say I'm fine," he told the crowd. "We're fine. I don't know what y'all doing but find something else to do because we're fine. Lord have mercy."
Meanwhile, Bridges took to Instagram to address the claims, notably sharing a screenshot of biblical scripture and a guide on "how to handle being lied about." In the caption of the post, she pointed out that she and her husband don't typically respond to fabrications made about them.
"My husband and I don't usually stop to address all the foolishness and lies that have been spread about us," she wrote. "However to whom much is given much is required. I understand that with my platform comes some sort of responsibility to those that may not be as strong as we are. Read and share this with your love ones that may not know how to properly cope. God Bless all of you."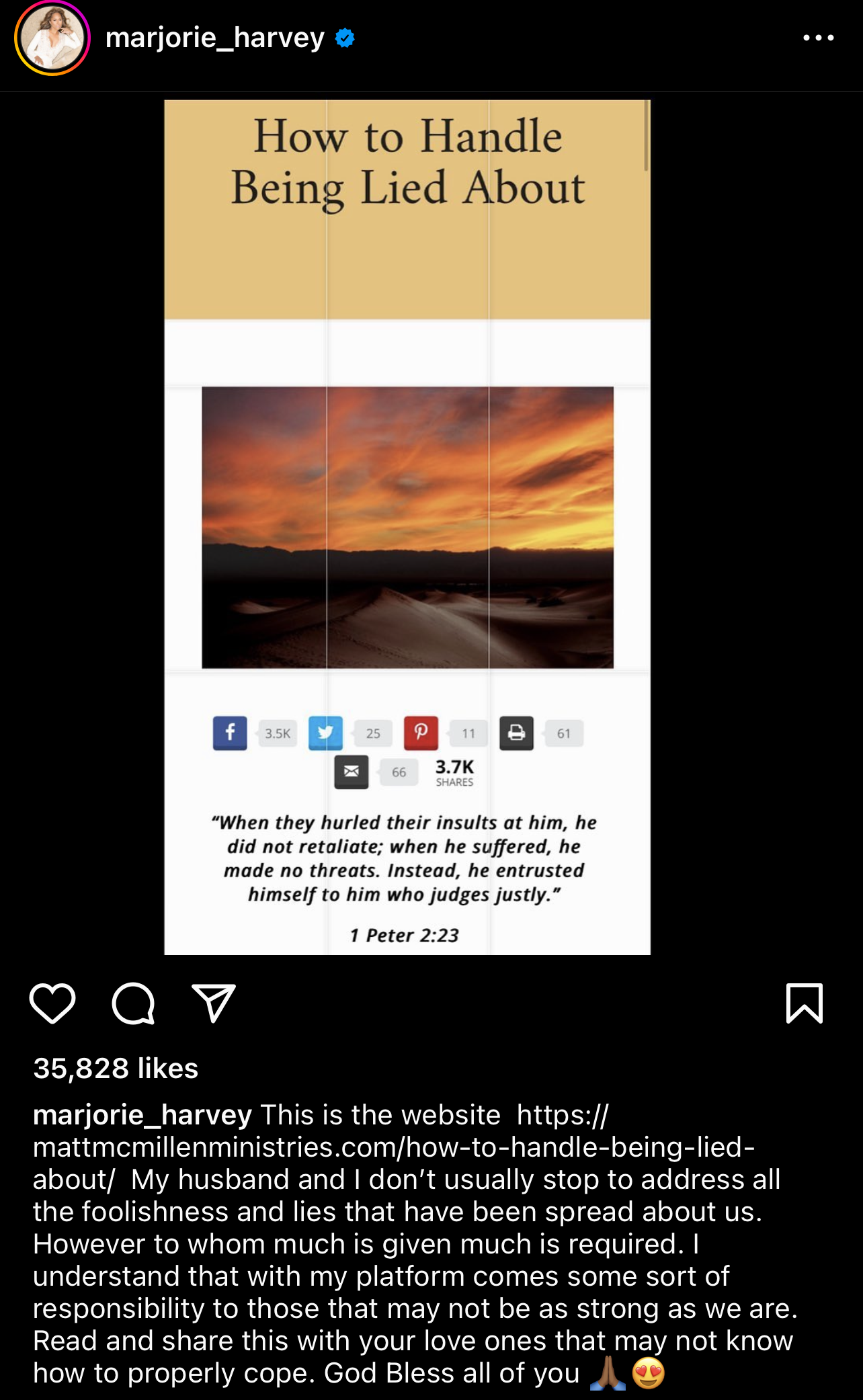 Over the weekend, the unsubstantiated rumor circulated online alleging, without any proof, that Harvey's wife Marjorie Bridges cheated on the Family Feud host with his bodyguard and personal chef. The claims seemingly gained traction after a few influencers began sharing the fake rumor.
On Saturday, Nigerian Senator Ned Nwoko, a friend of Harvey, hopped on Twitter to try to put an end to the gossip, saying he'd spoken to Steve himself and that the rumors are "fake news."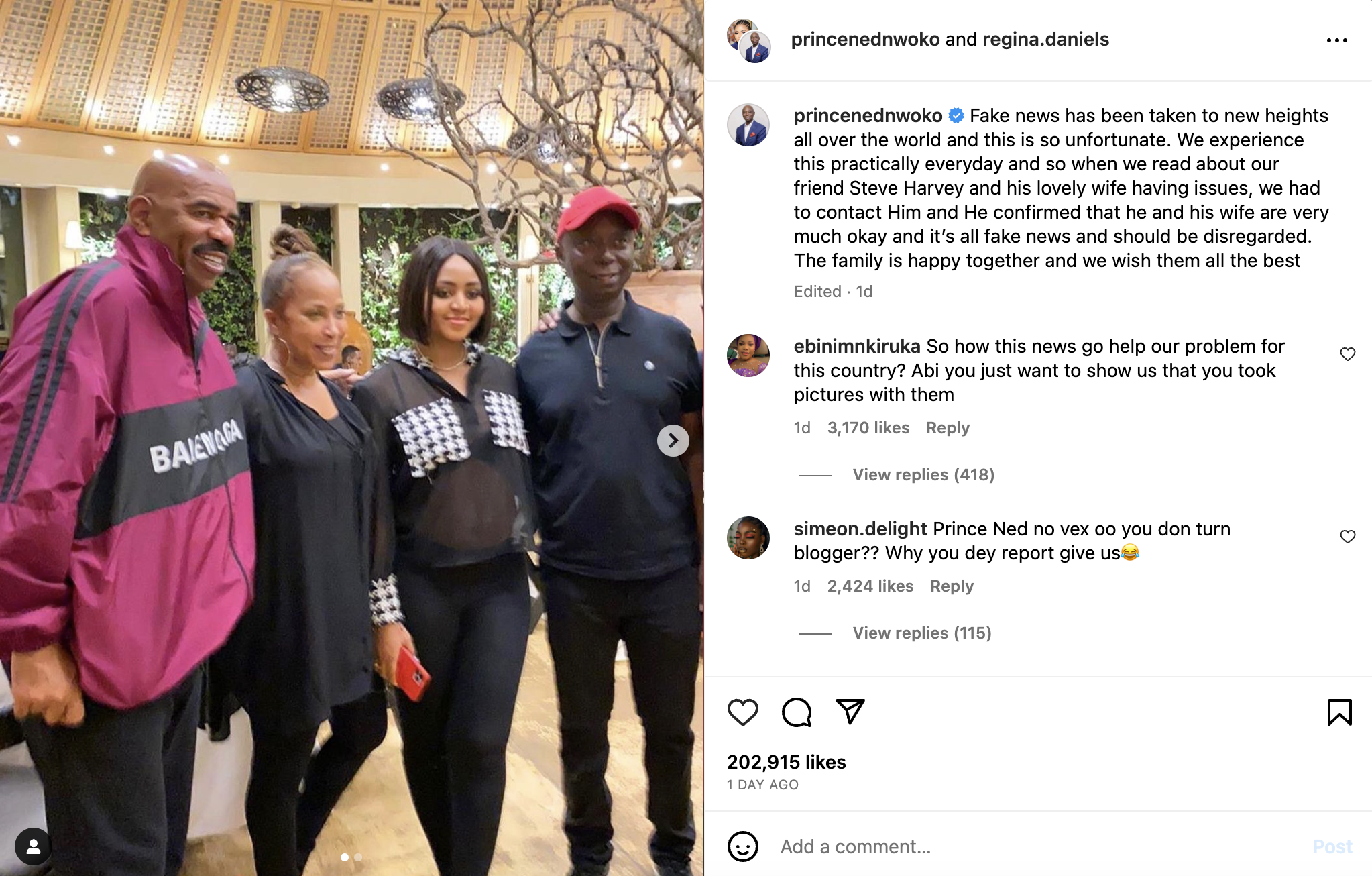 "Fake news has been taken to new heights all over the world and this is so unfortunate," Nwoko said at the time. "When we read about our friend Steve Harvey and his lovely wife having issues, we had to contact Him and He confirmed that he and his wife are very much okay and it's all fake news and should be disregarded. The family is happy together and we wish them all the best."
The gossip arrives days after Harvey took to social media to issue an apology after a tweet was posted on the 66-year-old's official Twitter page that asked followers to name a comedian they "don't find funny at all."
"Somebody that works for me on my Twitter put a statement out that was totally negative," Harvey said in a video posted to the site formerly known as Twitter on Friday. "I gotta take responsibility for it 'cause they work for me, but the engagement was talking about 'name a comedian you don't think is funny.' Why would I do something like that? That don't even make no damn sense. My whole brand is to be motivational, and Imma turn around and say something like that? You don't know where these young people [are] at in they career, man. They could be coming up or anything. I'm all about positivity; I would've never done nothing like that."
Check out Harvey's full response below.