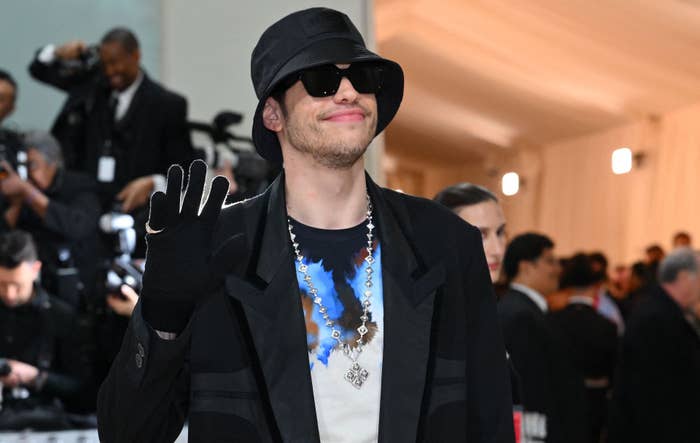 Days after NBC canceled what would've been his first time hosting Saturday Night Live since leaving the main cast, Pete Davidson is showing his support for the ongoing Writers Guild of America strike. 
On Friday, the former SNL cast member made an appearance at the picket line in Brooklyn, handing out pizzas from L&B Spumoni Gardens to participating protesters.
"I got Spumoni's for everyone," Davidson said in the below clip. "Gotta support the writers, man! No shows without the writers.
Davidson, who departed SNL following the Season 47 finale last May, was scheduled to host the late-night sketch comedy series this weekend. Earlier this week, SNL cancelled the remaining episodes of its 48th season due to the writers' strike. 
During a recent appearance on the Tonight Show With Jimmy Fallon, Davidson expressed his disappointment regarding the cancellation of his planned hosting gig.
"Lorne [Michaels, producer] told me a couple of months ago but, as you know, the writers' strike might happen," Davidson shared. "So, I've been working on this for like two, three months, and they're like, 'Yeah, well we'll know Monday if it's happening or not.'
Davidson added, "It sucks because it just feeds my weird story I have in my head. Like, of course that would happen to me."