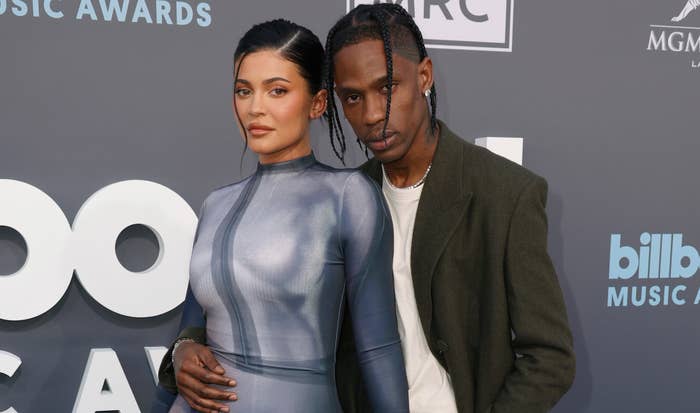 Kylie Jenner took to Instagram on Sunday to post a Father's Day tribute to Travis Scott, sharing a picture of their four-month-old son snuggled up with his dad and sister.
The photo features Travis apparently eating a bowl of Ramen noodles while lounging in bed, with the couple's son laying on his chest and daughter Stormi Webster cuddled next to them. In the photo, Kylie covered her son's face with a brown heart emoji.
"Happy father's day daddyyyyy," Kylie captioned the post. "We love you."
On her IG Stories and in another post on her page—as captured below by a fan account—she showed off a "Happy Dads Day" celebration denoted by many balloons and candles, plus another pic showing just a tiny bit of their son, i.e. his and Travis' matching Nikes:
Shortly after giving birth to their baby boy in February, Jenner revealed she and Travis had named their newborn Wolf Webster. However, a month later Kylie shared on her Instagram Stories that Wolf is no longer his name.
"FYI our son's name isn't Wolf anymore," she wrote in March. "We just really didn't feel like it was him. Just wanted to share because I keep seeing Wolf everywhere." 
Prior to revealing their decision to change the newborn's name, Kylie and Travis celebrated their son with a 10-minute compilation of clips shared to YouTube, entitled "To Our Son." 
The video provides a behind-the-scenes look into Scott and Jenner's private family life as they prepared to welcome their second child. 
"You know, this was the best thing ever for him," Scott's mother, Wanda Webster, told Kylie in the video. "I see a different person in my son. And you, as a young mother, I was just telling somebody at the party today, what a wonderful mother you are. You always think about Stormi first. And that is so wonderful. I'm so blessed and I'm so happy that you are the mother of my grandchildren. I love you and I love baby Jack, and good luck."