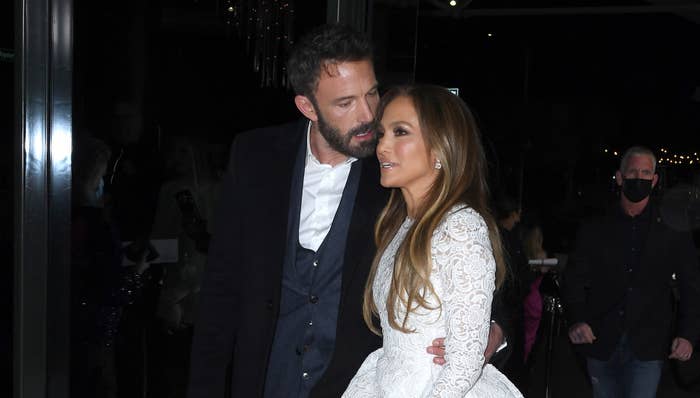 Nearly 20 years after they first got engaged before postponing their wedding and announcing their split in 2004, Jennifer Lopez and Ben Affleck have reportedly tied the knot.
TMZ reports Lopez and Affleck filed for a marriage license in Clark County, Nevada, over the weekend, with a source telling People the couple exchanged vows in a "small" ceremony.
"It was super, super small. [Jennifer's] mom and kids were there. They just wanted to be married so they got married," the insider said.
On Sunday, Lopez confirmed the news on her website. "Exactly what we wanted. Last night we flew to Vegas, stood in line for a license with four other couples, all making the same journey to the wedding capital of the world. Behind us two men held hands and held each other," she wrote alongside a series of images from the wedding. "In front of us, a young couple who made the three hour drive from Victorville on their daughter's second birthday—all of us wanting the same thing— for the world to recognize us as partners and to declare our love to the world through the ancient and nearly universal symbol of marriage."
Lopez added, "Stick around long enough and maybe you'll find the best moment of your life in a drive through in Las Vegas at twelve thirty in the morning in the tunnel of love drive through, with your kids and the one you'll spend forever with. Love is a great thing, maybe the best of things-and worth waiting for."
The news arrives several months after Lopez opened up about her relationship with Affleck in an interview with People.
"It's a beautiful outcome that this has happened in this way at this time in our lives where we can really appreciate and celebrate each other and respect each other," Lopez shared. "We always did, but we have even more of an appreciation because we know that life can take you in different directions."
Lopez added, "We have been in the game in the public eye long enough to know who we are as people and what really matters and what doesn't matter. We have kids and we respect each other. … We really live our lives in a way we can be proud of and our kids can be proud of you. We're just operating from a place of love and respect for everyone in our lives and that is very important to us. We know what the truth is [and] we hold it sacred."
After meeting on the set of their 2003 film Gigli, Lopez and Affleck got engaged in January 2004. They subsequently broke off their engagement, before rekindling their romance in May of 2021. A year later, in April 2022, months after Affleck alluded to his relationship with Lopez in a December 2021 interview with WSJ Magazine, the couple announced their engagement.
"I've had second chances in my career," he explained to WSJ. "I've had second chances as a human being. Life is difficult, and we are always failing and hopefully learning from those failures."