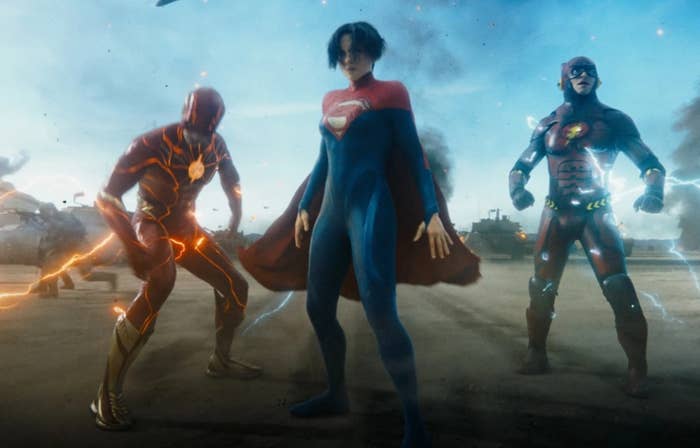 It's time to believe the hype.
After months of good buzz from people close to the movie, The Flash finally screened for media-types and the early reactions have been overwhelmingly positive.
"The Flash is hands down one of the best superhero films of all time," Hollywood Critic Awards and We Live Entertainment founder Scott Menzel tweeted after Tuesday's CinemaCon sreening. "No joke, The Flash is the ultimate movie going experience as it has a little bit of everything!" Michael Keaton's return as Bruce Wayne and Batman received high praise, as did Sasha Calle as Supergirl. Miller's dual lead performance as Barry Allen/The Flash was described by Menzel as "phenomenal."
Fandango and Rotten Tomatoes' Erik Davis called The Flash "tremendous," and said it's not just the best DC film but "among the best superhero films ever made." 
Other early reactions from critics highlighted the character-driven nature of the movie and the deft handling of both humor and heart.
The second trailer for the film premiered at CinemaCon earlier this week, where Warner Bros. Discovery CEO David Zaslav described the feature as "the best superhero movie I've ever seen," per The Hollywood Reporter. Director Andy Muschietti praised Miller, saying "I discovered they are an incredible comedian and also [handled] all the action required for a big spectacle like this. They wanted to do all the stunts, and I let them."
DC's journey to bring The Flash to the big screen has been tumultuous, to say the least. Miller made headlines for a series of controversies in the months leading up to the film's upcoming release. In January, they reached a plea agreement in connection with their highly publicized Vermont case, in which they plead guilty to trespassing. 
"Having recently gone through a time of intense crisis, I now understand that I am suffering complex mental health issues and have begun ongoing treatment," Miller said in a statement released in August of last year, addressing their worrying behavior. "I want to apologize to everyone that I have alarmed and upset with my past behavior. I am committed to doing the necessary work to get back to a healthy, safe and productive stage in my life."
The Flash hits theaters on June 16. Check out more early reactions to the film below.