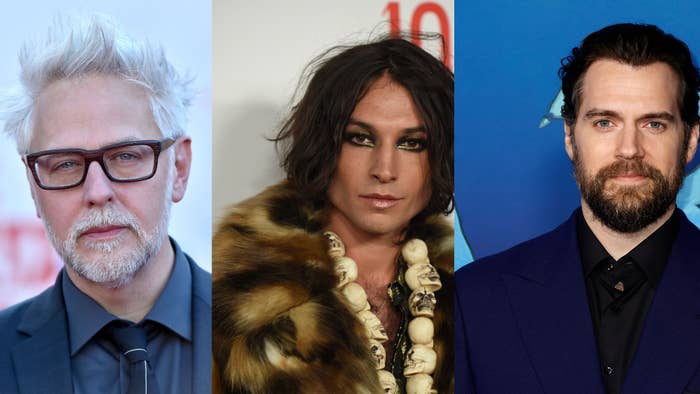 James Gunn has opened up about two key facets of the larger DC universe moving forward, namely Ezra Miller's upcoming The Flash and the recent confusion surrounding Henry Cavill's would-be return as Superman.
Addressing the former, per a report fromVariety on a private press event held earlier this week, Gunn pushed back against assumptions that the film would not receive the same level of attention as newer titles following his and Peter Safran's announcement last year as co-leaders of DC Studios.
"I will say here that Flash is probably one of the greatest superhero movies ever made," Gunn said during Monday's presentation, which also resulted in the unveiling of a new slate of upcoming films and series.
As for Miller's string of very public controversies, particularly how they may affect their future with the studio, Safran made it clear they are currently "completely committed to their recovery" but also noted that a discussion about moving forward in a collaborative nature is on the table "when they feel like they're ready."
In August, Miller shared a statement in which they confirmed they had started "ongoing treatment" and also apologized for their behavior.
"Having recently gone through a time of intense crisis, I now understand that I am suffering complex mental health issues and have begun ongoing treatment," Miller said at the time. "I want to apologize to everyone that I have alarmed and upset with my past behavior. I am committed to doing the necessary work to get back to a healthy, safe and productive stage in my life."
Cavill's Black Adam cameo return as Superman, meanwhile, seemingly signaled a full-blown path forward was being laid out for the actor to again don the cape. As fans know, however, that was ultimately confirmed to not be the case when DC Studios made its formal debut. And while a new Superman film was confirmed this week to indeed be on the horizon, it will not feature Cavill.
Per a report from Screen Rant, Gunn clarified at this week's presentation that Cavill "was not fired" from the role. Instead, he added, there was no deal in place for another Cavill-led Superman film.
"All I can tell you right now, really, is Henry and Ben [Affleck] are not a part of this universe," Gunn said. "Also important to say that Henry Cavill was not fired. Henry was just not hired to be Superman in the Superman movie. There was never a deal there for another movie."