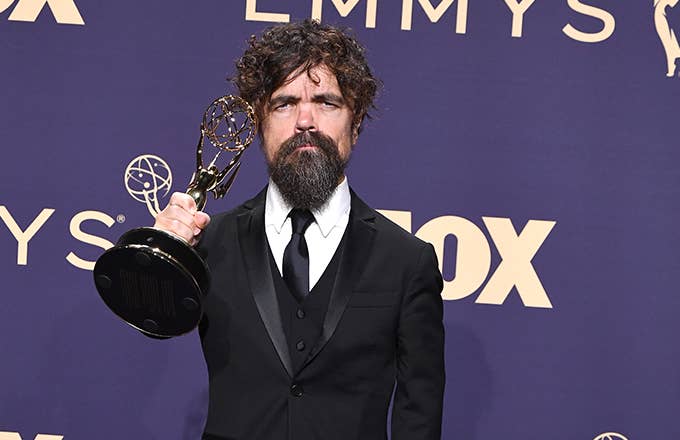 The last season of Game of Thrones left a lot of longtime fans disappointed, and star Peter Dinklage believes he knows why. In an interview with The New Yorker, Dinklage avoided giving his opinion on the ending, but he did comment on what fans thought of it. He didn't follow the reactions too closely, but he did explain why he thinks Daenerys Targaryen's villainous turn had so many upset.
"Well, everybody's always going to have an opinion, and that means an ownership. It's like breaking up with somebody. They get upset," Dinklage said of the reaction to the final season. "I can't speak for everybody, but my feeling is they didn't want it to end, so a lot of people got angry. I feel like what Dave [Benioff] and Dan [Weiss] did was extraordinary.ink This happens."
A common criticism of GoT Season 8 is that Daenerys' evolution into a fascist was a little too abrupt, rushed by series showrunners David Benioff and D.B. Weiss. "Monsters are created. And you don't see it coming. We vote them into office. You look the other way," Dinklage added, directly referring to the character. "So for everybody to get upset because they loved a character so much and they had so much faith in that person—there were signposts all along the way for that character."
The 50-year-old Golden Globe winner went on to talk about how people named their children Khaleesi or Daenerys, and how attached people were to her before she turned into a complete monster. "I can't help you! I'm sorry. She went mad," he added. "She was driven to that, and she's a victim as well in terms of how she was treated. She went through it, and she came out angry, as a lot of us do." Additionally, he said that he had no idea if his character, Tyrion, would make it to the end of the show.
During the interview he also spoke about dwarfism representation in media, and if anything in particular struck him as reinforcing stereotypes. "I myself am not always the most politically correct person in terms of my dwarfism," he said. "I don't care, really. I think that can be damaging as well. For example, if I see a kid and he's pointing at me, and the parent has him look the other way, what's that kid going to grow up into? Somebody who can't make eye contact with somebody who's four and a half feet tall? That's sad, to me."