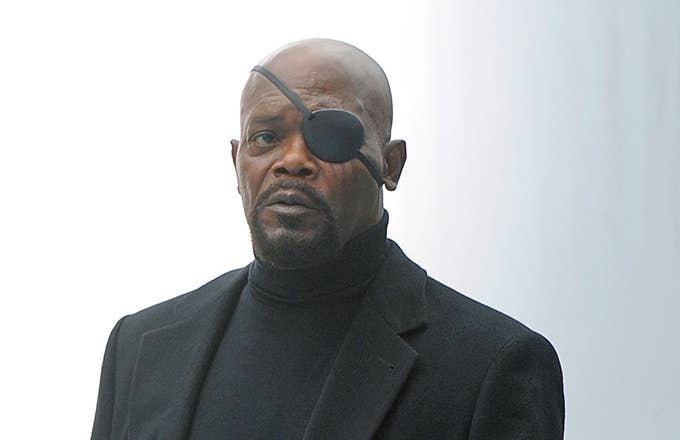 When the Marvel Cinematic Universe kicked off in 2008 with Iron Man, it ended with a tease of what was to come. In what was the first of many post-credits scenes the MCU quickly became famous for, Samuel L. Jackson's Nick Fury introduced himself to Tony Stark and told him he was not "the only superhero in the world." He proceeded to tell him about the "Avenger Initiative," and the rest is history.
In an alternate take of the scene, Fury almost let slip a lot more about the future of the MCU. Marvel Studios president Kevin Feige couldn't make it to the Saturn Awards to accept the Stan Lee World Builder Award, but he was able to provide a clip that featured the deleted scene. "We pulled some things out of that vault that we said, 'We'll never show this to anybody, put it away,'" Feige explained. "We're bringing them out, we're putting them on this disc, and I'm about to show you a deleted scene that has never been seen by anyone before right now."
The dialogue saw Fury reference both the X-Men, and Spider-Man, franchises which Marvel did not have access to at the time. "As if gamma accidents, radioactive bug bites, and assorted mutants weren't enough," Jackson's Fury said in the alternate take. "I have to deal with a spoiled brat who doesn't play well with others and wants to keep all his toys to himself."
Spider-Man didn't make his way into the MCU until 2016's Captain America; Civil War, later receiving two of his own movies with Homecoming and Far From Home. The character has since departed the universe due to a falling out with Sony, which maintains film rights for the franchise, but the X-Men are back in the cards with Disney's purchase of 21st Century Fox earlier this year.
While it would have been a bold choice to have Fury make references to characters Marvel could not yet bring to life, it's pretty obvious why this take ultimately wasn't used. Peep the original below.