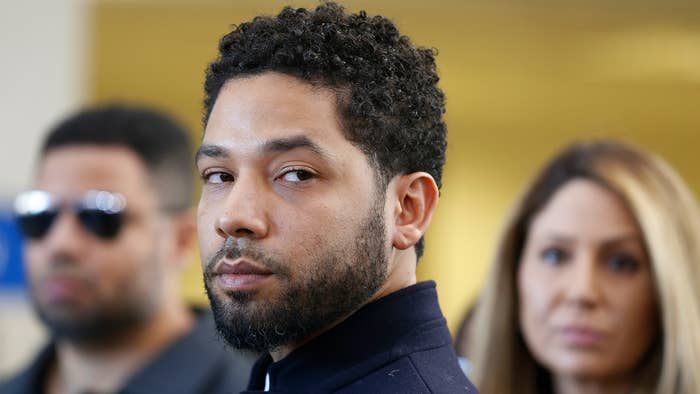 UPDATED 3/11, 1:45 p.m. ET: Jussie Smollett will spend his 150 days in Cook County Jail under protective custody, TMZ reports.
According to court documents obtained by the outlet, Judge James Linn, who ordered Smollett's jail sentence, confirmed that the actor's legal team requested the protection.
Meanwhile, Chicago Mayor Lori Lightfoot released a statement Thursday night in which she condemned Smollett and applauded the court for sentencing him to five months in jail.
"The criminal conviction of Jussie Smollett by a jury of his peers and today's sentencing should send a clear message to everyone in the City of Chicago that false claims and allegations will not be tolerated," she said.
Lightfoot continued, "The malicious and wholly fabricated claim made by Mr. Smollett resulted in over 1500 hours of police work that cost the City over $130,000 in police overtime. The City feels vindicated in today's ruling that he is being held accountable and that we will appropriately receive restitution for his actions."
See original story below.
Jussie Smollett has been sentenced to jail for 150 days in Cook County Jail after being convicted of staging a hate crime against himself in 2019 and making false reports to the police.
He was also sentenced to 30 months of probation and will have to pay restitution in the amount of $120,106 and a 25,0000 fine.
Following the sentencing, the former Empire actor said that he is "not suicidal" several times and maintained his innocence. 
"I am not suicidal. I am innocent, and I am not suicidal. If I did this, then it means that I stuck my fist in the fears of Black Americans in this country for over 400 years, and the fears of the LGBT community," Smollett said, per CBS News. "Your honor, I respect you, and I respect the jury, but I did not do this. And I am not suicidal, and if anything happens to me when I go in there, I did not do it to myself, and you must all know that. I respect you, your honor, I respect your decision."
Judge James Linn called Smollett "a charlatan pretending to be a victim of a hate crime" while handing down the sentence. Additionally, Judge Linn said the actor was "arrogant" and "narcissistic."
The 39-year-old claimed he was walking around Chicago in the the early hours of Jan. 29, 2019 when he was attacked by two masked white men. He told authorities the assailants shouted racial and homophobic slurs, poured bleach on him, and placed a rope around his neck. The two individuals were later identified as brothers Abimbola and Olabinjo Osundairo, two Black men who had worked with Smollett on Empire.
Throughout the lengthy trial process, the Osundairo brothers said that they were paid $3,500 to help stage the attack and that Smollett later offered them $1 million apiece to deny involvement. Smollett has repeatedly denied staging the attack and refuted the allegations the Osundairos leveled against him. He claimed they requested $2 million through their representative after the news broke, and said he never paid them any money.
Smollett was charged with six counts of disorderly conduct (Class 4 felonies) for lying to the police. The jury convicted him of five counts, however, and acquitted him on the sixth. That one pertained to statements he provided on the incident weeks after the fact, while the other five charges were in connection to statements he provided on the day he reported it to police.
Also on Thursday, Smollett's legal team request for a new trial was denied. He claimed his constitutional rights were violated after his legal team wasn't permitted to participate in the jury selection process.
"I stand by my findings and rulings. I do believe that at the end of the day that Mr. Smollett received a fair trial," Judge Linn said, per CNN.