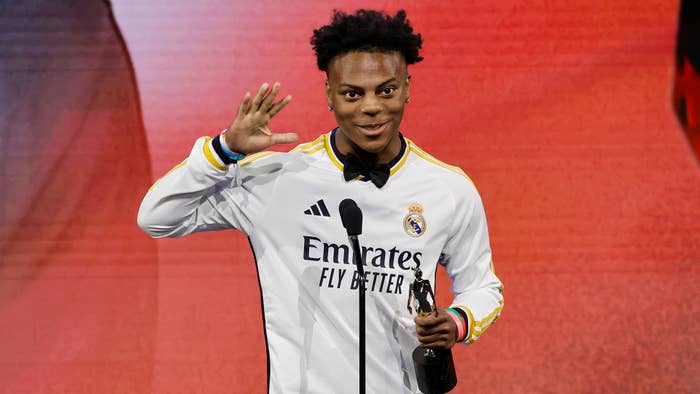 Streamer IShowSpeed, real name Darren Jason Watkins, had to be treated by paramedics after a science experiment during a live stream went wrong.
The popular YouTube streamer, who is primarily known for his animated responses while playing video games, recently conducted an "elephant's toothpaste" experiment in his bedroom during a stream. The experiment sees an individual or individuals combine hydrogen peroxide, dry yeast, and dish soap to create a foamy substance. However, when Speed did the experiment, it didn't go quite as planned and released a lot of seemingly toxic fumes into his home.
"It didn't work!" he exclaimed as more fumes released into his room. "What the fuck is going on? Is it working? Oh my fucking God, it's not doing it! ... Ah, I can't breathe." He was seen exiting the stream as the room continued to get filled with the fumes. A fire alarm could also be heard going off in the background as he left.
According to Sportskeeda, one of his stream moderators updated fans in the chat to let them know that Speed was okay. "Speed is currently with the firefight[ers] they're giving him oxygen so he can breathe he should be fine guys," the moderator wrote. His cameraman also shared a clip of the moment from another angle in a tweet, to which they added, "Speed is okay." The streamer has yet to directly address the incident himself.
The 18-year-old streamer has run into a number of issues throughout his streaming career. Most recently, he faced a potential ban from YouTube after he experienced a wardrobe malfunction that led to his penis flopping out. The moment went viral and the hashtag "IShowMeat" trended on X, formerly Twitter. He did not face any repercussions for the incident. Earlier this year, he underwent emergency surgery after he suffered a swollen eye.
In an appearance on Kai Cenat's stream in August, IShowSpeed pleaded with Twitch's CEO Dan Clancy to unban him from the streaming platform. He was banned for "sexual coercion or intimidation" in 2021 after he harassed another contestant on an e-dating show hosted by Adin Ross, a fan of noted misogynist and general idiot Andrew Tate.