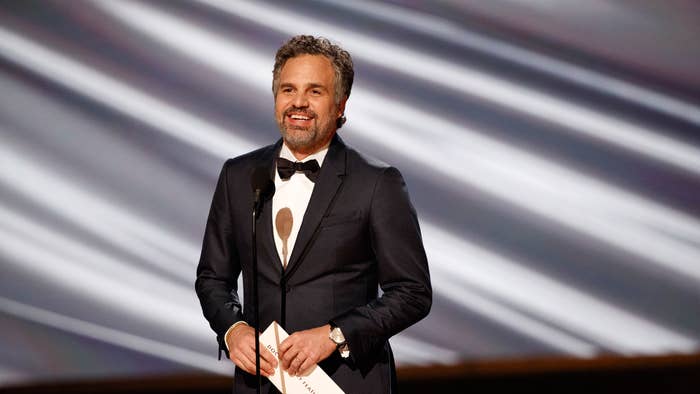 Parasite won four Oscars on Sunday night, making history as the first foreign-language film to win Best Picture. With the success of Bong Joon-ho's cutting satire ripe for an American adaptation, HBO is looking to bag some big names for its in-development limited series based on the movie. 
Collider reports that among those being eyed for one of the lead roles is Mark Ruffalo, who has another TV series on the way with HBO this April. Ruffalo has previously worked with the network when he starred as the lead in The Normal Heart, a television film directed by Ryan Murphy. 
Not much information is known about the Parasite series just yet, but it's expected to run for five to six episodes. It'll be based on the script from Bong and Han Jin-won, while Bong is also attached as a producer alongside The Big Short director Adam McKay. Parasite won big at the Oscars on Sunday, taking home Best Picture, Best Director, Best Original Screenplay, and Best International Feature Film.
Details regarding who Ruffalo might portray remain unclear. When reached for comment by Collider, HBO issued a statement indicating that it was too early to speculate about casting or characters at this stage. The original Parasite follows the story of the working class Kim family enacting a scheme to become employed by the wealthy Park family, evolving into something much darker and more satirical along the way.
Bong revealed why he wanted to work on a TV series based on the film and what it could expand upon. "All these key ideas accumulated from when I started writing the script," Bong told The Wrapshortly after it was revealed the show was in development. "I just couldn't include all those ideas in the two-hour running time of the film, so they're all stored in my iPad and my goal with this limited series is to create a six-hour-long film." He also hinted about expanding on plot elements already in the film, including more story regarding housekeeper Mun Gwang, portrayed by Lee Jung Eun.
Ruffalo is set to appear in HBO's new limited series I Know This Much Is True this April, while Parasite still does not have a date.