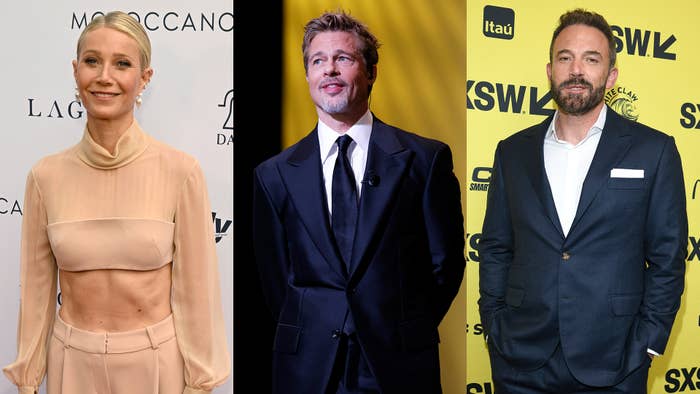 In an appearance on the Call Her Daddy podcast, Gwyneth Paltrow opened up about her sex life with ex-boyfriends Brad Pitt and Ben Affleck.
Host Alex Cooper quizzed the Goop founder on her past relationships, including her former fiancé Pitt, ex-boyfriend Affleck, as well as her ex-husband Chris Martin of Coldplay. When Paltrow was asked straight-up who of Affleck or Pitt was better in bed, she offered up a very diplomatic answer. "That is really hard… Brad was like the sort of major chemistry, love-of-your-life kind of like, at the time, you know," she shared. "And then Ben was like, technically excellent."
When comparing the two, Paltrow said that they're both "so talented" and explained that Affleck in particular is "a great writer and director." When it comes to just acting, however, she's more of a Pitt fan. Paltrow also revealed that Pitt was the more romantic of the two, but Affleck was more likely to make her laugh. 
She also described Pitt as "a great guy," and added that while their timing just didn't work out, she's still fond of him. "I had a lot of development to do, looking back in hindsight. In a lot of ways, I didn't really fully start to come into myself until I was 40 years old," Paltrow said. "And I had such a pleasing issue. I didn't really even understand how to listen to my instincts and act from that place." The pair met while on the set of Seven in 1994. They got engaged in 1996, but split by '97, which left her "totally heartbroken."
Later in the conversation, Cooper managed to get Paltrow to agree to a game of Fuck, Marry, Kill between her old flames., She immediately chose to marry Martin because he's the father of her two children, Apple and Moses. "I would do that all again," she said. Ultimately she struggled to pick a "kill" option because it's a bit too "hard core" of a thing to choose. However, she opted for Affleck in the end. "God Bless him," she laughed.
Check out the full episode below.