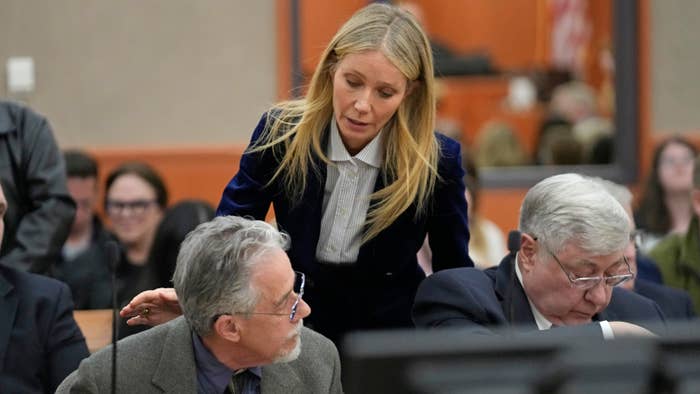 Gwyneth Paltrow took the high road following this week's conclusion of a much-publicized trial over a skiing accident in Park City.
In short, Paltrow had been sued by retired optometrist Terry Sanderson, who claimed the actor and Goop founder was to blame for a mid-skiing collision at the Deer Valley Resort in 2016. Paltrow's legal team, however, had argued that it was actually Sanderson who was at fault in the accident. Sanderson, per a report from the Associated Press, had sued Paltrow for $300,000. Meanwhile, Paltrow countersued for lawyer fees and a single dollar in damages.
On Thursday, the jury found Sanderson was at fault in the collision. In footage of the immediate post-verdict moments in the Utah courtroom, Paltrow is seen whispering to Sanderson as she makes her way outside.
Footage shared by the Guardian and others shows the judge saying, "This court is now adjourned," at which point a lawyer representing Paltrow is seen asking if his client can "slip out before" everyone else in the courtroom exits. The judge grants this request, telling everyone to remain seated as Paltrow leaves. Paltrow then walks over to Sanderson, whispering—at least according to reports, as her words are not fully audible in the footage—"I wish you well."
Sanderson responds, seemingly saying, "Thank you dear."
Complex has reached out to a representative for Gwyneth Paltrow for additional comment on the verdict, as well as the ensuing whisper. This story may be updated.
Below, see an excerpt from courtroom footage showing the widely discussed parting message.