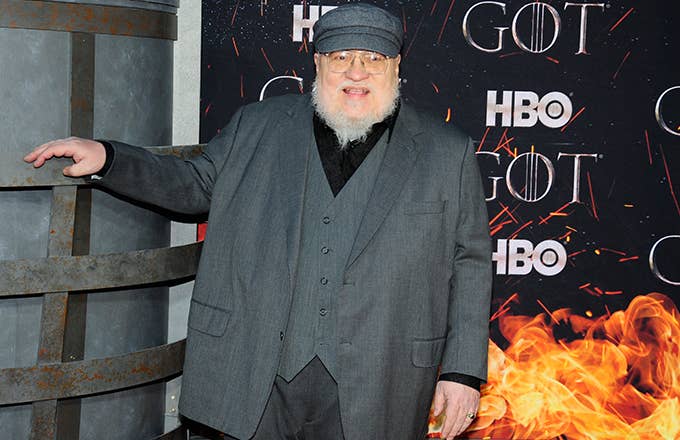 When Game of Thrones came to a dramatic end with its final six episodes, some fans were upset about how it all went down. Many took issue with who took the Iron Throne, how character deaths were handled, and how rushed the show seemed to come to its conclusion. What some fans didn't anticipate, however, is that this was mostly the ending that creator George R.R. Martin intended to depict in his final two A Song of Ice and Fire novels, both of which still haven't come out.
In conversation with Entertainment Weekly, Martin talked about the reaction to the final season of the HBO epic and how it was experiencing the story he's yet to tell onscreen. 
"The internet affects all this to a degree, it was never affected before," he explained. "Like Jon Snow's parentage. There were early hints about [it] in the books, but only one reader in 100 put it together. And before the internet that was fine—for 99 readers out of 100 when Jon Snow's parentage gets revealed it would be, 'Oh, that's a great twist!' But in the age of the internet, even if only one person in 100 figures it out then that one person posts it online and the other 99 people read it and go, 'Oh, that makes sense.'"
He continued, "And there is a temptation to then change it [in the upcoming books]—'Oh my god, it's screwed up, I have to come up with something different.' But that's wrong. Because you've been planning for a certain ending and if you suddenly change direction just because somebody figured it out, or because they don't like it, then it screws up the whole structure."
Shortly after the final episode of the series aired on HBO, Martin let his fans know that while some elements of the books will be different than the show, a lot of the important plot points will remain the same. 
"So no, I don't read the fan sites," he added. "I want to write the book I've always intended to write all along. And when it comes out they can like it or they can not like it."
As Game of Thrones started to overtake the A Song of Ice and Fire novels, Martin outlined the major plotlines of the rest of the story to showrunners D.B. Weiss and David Benioff. Despite this, some fans still believed their disappointment with the conclusion purely fell on the duo's shoulders.
As for when fans can expect the six and seventh novels, The Winds of Winter and A Dream of Spring, Martin has said he doesn't want to rush them out. "I don't only want to finish it, I want to make it as good as I possibly can," he said. "There's no longer a race. The show is over. I'm writing the book. It will be done when it's done."