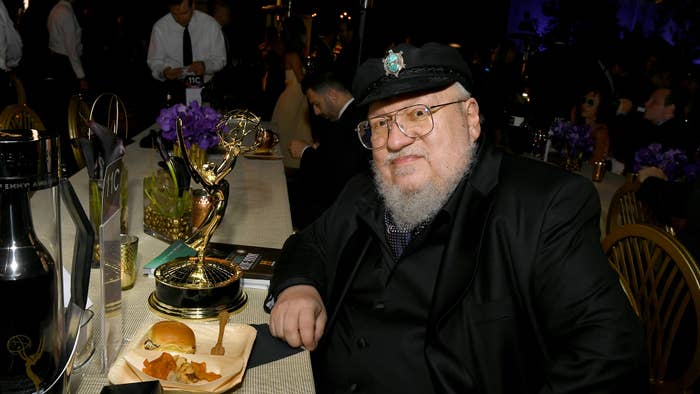 In a new interview ahead of the premiere of the HBO series House of the Dragon later this year, Game of Thrones novelist/producer George R.R. Martin has given his thoughts on the backlash to the original show's divisive ending. Speaking with the Independent, the A Song of Fire and Ice author reflected on how a large sect of fans reacted to Season 8, which ended the series with many pissed-off fans.
"I don't understand it, you know," he said. "Okay, you love a show, you love a character. What's the worst…it's either going to be a good show or a bad show or a mediocre show. Some episodes are good, some are bad. Why are some people getting so crazy about it?"
Expanding upon his thoughts further, he suggested the backlash was even more surprising to him because many of the people criticizing the finale were such big supporters previously. "I don't understand how people can come to hate so much something that they once loved," he added. "If you don't like a show, don't watch it! How has everything become so toxic?"
He didn't just save his commentary on toxicity in fan culture for Game of Thrones, though, as he also highlighted some of the controversies in other fanbases.
"[Amazon's] The Lord of the Rings: The Rings of Power isn't even on yet, but if you follow what's going on online, the controversy about it is like World War II. They're dropping atomic bombs on each other," the 73-year-old continued. "You hear controversies about some of the Marvel shows and the Marvel movies, certainly about the DC characters. It used to be if you were a fan of Star Trek, you liked Star Trek. Now it seems like half the people who call themselves Star Trek fans hate Star Trek, and the Star Wars fans hate Star Wars, and the Tolkien fans hate Rings of Power."
While the varying quality of recent Star Wars and Star Trek media is one easily identifiable reason behind this general toxicity in fandoms, Martin suggested it could also be the result of some ardent supporters unwilling to accept change. "What the hell? Now maybe it's because it's changing, but as a writer you'd go crazy if you didn't change it somehow," he said. "You want to tell new stories, not tell the same stories over and over again."
Elsewhere in the interview, Martin touched upon writing the Red Wedding scene, which he called "difficult," and compared the infamous Game of Thrones sequence to Star Wars.
"Star Wars kills more characters than I do!" Martin said. "In the very first Star Wars movie they blow up the entire planet of Alderaan, which has, like, 20 billion people on it, and they're all dead. But you know what? Nobody cares. Everybody on Alderaan is dead. Oh, OK. But we don't know the people on Alderaan. We don't feel their deaths. It's just a statistic. If you're going to write about death, you should feel it."