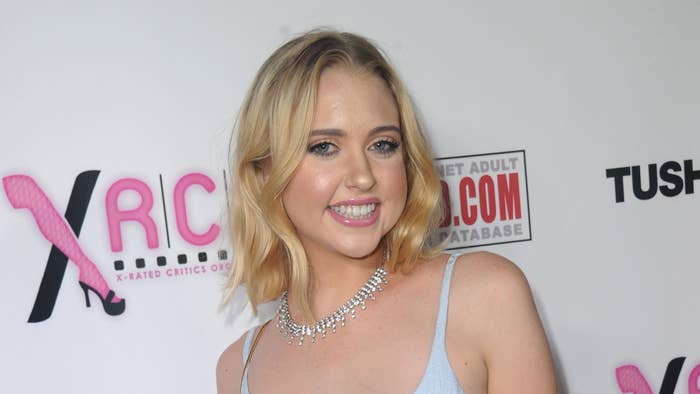 Actress Chloe Cherry made her debut Euphoria appearance in the first episode of Season 2, but she was actually in a porn parody of the show before she was cast.
Cherry, who has made a successful career as an adult film star, shows up in the latest episodes of the HBO show as Faye. In an interview with Nylon, Cherry talked about being in porn parody of the show that imagined a hook-up between Zendaya's Rue and Hunter Schafer's Jules. She also said she got the part because director-writer-creator Sam Levinson discovered her on Instagram, and thought she seemed funny.
"My friend and I, who's also an adult movie star, we were just both huge fans of the show and we thought that that one scene [with Rue and Jules] was just so beautiful," she said. "When you're making a porn parody, the best way to make them is scenes like that, where they're already insinuating that sex is about to happen. So that's usually what people would want to see in terms of a porn parody. Fans really, really liked it. They thought it was awesome."
Cherry added that she was a "huge fan of the show" before Levinson ever had her audition, and that it was "unreal" to see the cast in person.
"Everybody's so beautiful and so nice, and they all have amazing personalities, and they're all so talented," she continued. "It was just so much talent in one room, so much sense of humor and just great sense of fashion. Everyone's really smart and very just, creative and talented. So it was super, super cool to see everyone in person, but it was even cooler that they're such cool people, you know?"
As for making the transition from pornography to prestige television, she said she never "really saw a difference in it."
"I'm an actress, just through and through an actress," she said. "I've acted for a long time." She's not done with starring in non-pornographic projects, either, and hopes to act in films and other TV shows in the future. "I just really, really hope that other directors see that in me and are inspired to put me as basically anything," she said.