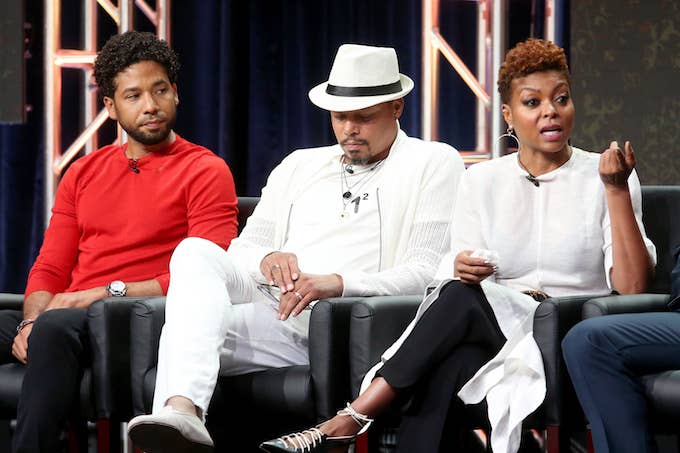 Fox only renewed Empire for Season 6 last month, but now Deadlinereports it will be the series' final batch of episodes, too.
Upon the announcement of Season 6, it was revealed that there were "no plan" for Jussie Smollett to return to the show in light of the controversy surrounding his allegedly staged hate crime in Chicago. In announcing the end point for Empire, it was confirmed once again that Smollett is not set to appear in the final season. "There's an option to have Jussie in the series but we have no plans for that," Fox Entertainment CEO Charlie Collier explained.
"We are turning the final season into a large TV event, we are trying to go out guns a blazing," Collier said of Season 6. "You allow fans to lean in and have the ending they deserve."
Empire is currently scheduled to return this September with a 20-episode order, although pre-production has yet to commence. When the show returns it will move back to its Tuesday 9 p.m. slot.
2019 has been a rough year for Empire, facing a new ratings low in Season 5 while Smollett's legal issues clouded public awareness. Following the news of the cancellation, Collier spoke with Deadlineto address the diversity problem as many shows with black leads hit the cutting block. Rel, Lethal Weapon, Proven Innocent, The Cool Kids, and Star were all canceled at Fox this year.
"The diversity of Fox is an issue that is so important and an ongoing effort for us to make sure we're best in class," Collier explained. "As I was looking at Fox and joining, what's remarkable is that the history of this company and what it's done in terms of diversity…. If you look across our slate in terms of scripted and unscripted and sports, we really are doing a good job but the job never stops. The effort continues, it never stops."
As Deadline notes, Fox received an F grade from the Asian Pacific American Media Coalition for their distinct lack of Asian American representation during the 2017/2018 TV season.