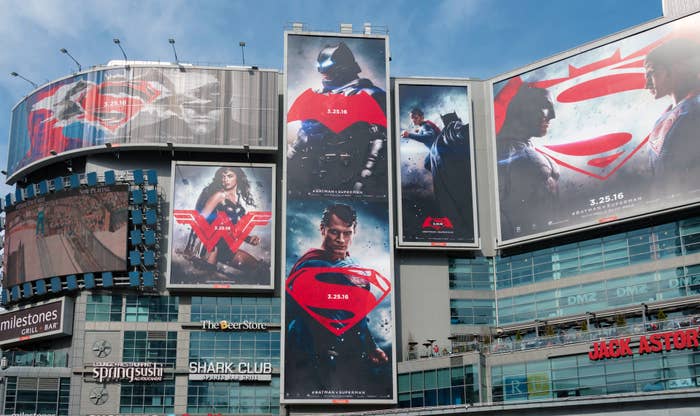 Days after Warner Bros. Discovery made the decision to shelve Batgirl, the company announced it has reset its strategy for DC Comics properties with a 10-year plan.
The news was shared by Warner CEO David Zaslav during a second-quarter earnings call on Thursday, during which he confirmed plans to merge HBO Max and Discovery+ into a single streaming service. "You look at Batman, Superman, Wonder Woman, Aquaman—these are brands that are known everywhere in the world," said Zaslav, per the Hollywood Reporter. "We have done a reset. We've restructured the business where we are going to focus, where there is going to be a team with a 10-year plan focusing just on DC. We believe we can build a much more sustainable business."
Zaslav openly described the plan as "very similar" to Marvel Studios head Kevin Feige's approach, although he stopped short of confirming whether that means a return to the unified cinematic approach that DC attempted to mixed results. After Justice League underperformed at the box office, Warner released a number of standalone movies based on DC properties including Joker and The Batman.
"It's very similar to the structure Alan Horn, Bob Iger, and Kevin Feige put together very effectively at Disney," said Zaslav. "We think we can build a much stronger, sustainable growth business out of DC. As part of that, we are going to focus on quality. We are not going to release any film before it's ready. … DC is something we can make better."
He stressed that the company has confidence in many of its upcoming DC films, including Black Adam with Dwayne Johnson and Shazam! Fury of the Gods. "We are very excited about them. We've seen them," he said. "We think they are terrific, and we think we can make them even better."
It's unclear if the release dates for future DC films could shift, but Adam and the Shazam sequel are currently scheduled for release on Oct. 21, and Dec. 21, respectively. Warner also still plans to release The Flash in June 2023, despite the allegations of grooming and abuse against its star Ezra Miller.
Zaslav said some of its DC output will arrive in theaters "with shorter windows" and "different marketing campaigns," although the focus is still on theatrical releases over streaming debuts. "The objective is to grow the DC brand. To grow the DC characters," he added, noting that high budget projects for streaming weren't the smartest investment for the company. "But also, our job is to protect the DC brand, and that's what we're going to do."
Batgirl, when it was shelved, had already wrapped filming and cost the company a reported $90 million in production costs. In a message shared earlier this week, star Leslie Grace thanked fans for their support following the abrupt and unexpected news. 
One half of the directing duo behind the film, Adil El Arbi, shared an email that Marvel head Kevin Feige sent him about the news. "My friends I had to reach out and let you know we are all thinking about you both," Feige wrote in the email addressed to him and his directing partner Bilall Fallah, with whom he also helmed episodes of the MCU Disney+ series Ms. Marvel. "Because of the wonderful news about the wedding (congrats!) and the disappointing news about Batgirl."
Feige continued, "Very proud of you guys for all the amazing work you do and particularly Ms. Marvel of course! Can't wait to see what is next for you. Hope to see you soon."