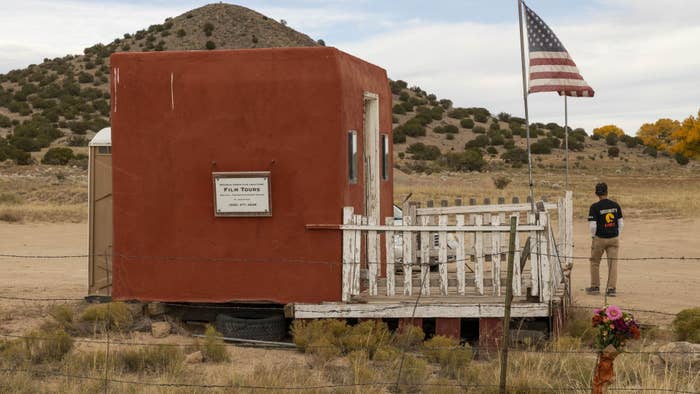 A film production company is claiming that a "safety meeting was held" on the morning of the Rust shooting accident, where Alec Baldwin discharged a prop gun that killed cinematographer Halyna Hutchins. 
Rust Movie Productions is hitting back at a $137,000 fine from the state of New Mexico, which argues per a sanction that there were workplace safety violations on the set and that production managers failed to follow standard protocol. 
"The law properly permits producers to delegate such critical functions as firearm safety to experts in that field and does not place such responsibility on producers whose expertise is in arranging financing and contracting for the logistics of filming," Rust Movie Productions said in a filing, arguing that it "did not 'willfully' violate any safety protocol, and in fact enforced all applicable safety protocols."
The incident took place on Oct. 21 when Baldwin pointed a prop gun at Hutchins, which ended up killing her and injuring director Joel Souza. The actor has claimed Hutchins instructed him to point the gun at her, and that it went off without him pulling the trigger. 
As CBS News reports, New Mexico's Occupational Health and Safety Bureau hit the production company with the maximum fine in April and pointed to gun safety complaints from crew members and weapons specialists not being able to offer additional safety training. It added that there were two misfires of blank ammunition on set, but the company claims "appropriate corrective actions were taken, including briefings of cast and crew."
Rust Movie Productions also argues that armorer Hannah Gutierrez Reed had enough time to inspect firearms on set, and cites comments from a costume designer who said she had "plenty of time."
According to CBS, state findings show at least five lawsuits having been filed against the production company after the shooting, including a wrongful death suit by Hutchins' family.
In recent weeks, video footage from the aftermath of the incident has been released, including a police interview with Rust director Joel Souza from the emergency room of a hospital. He recalled a "very loud bang" that "felt like someone kicked me in the shoulder."
"I was down," Souza said. "And then I looked over and see the cinematographer Halyna Hutchins with blood coming out of her back." 
As previously reported, Brian Panish, an attorney representing Hutchins' family, has since issued a letter to the Santa Fe Sheriff's Office, demanding it remove footage of Hutchins surrounded by emergency personnel from its website. 
"The first time Mr. Hutchins saw the disturbing and unsettling video footage of his dying wife lying on the church floor was on Radar Online, an internet website," Panish wrote. "The potential consequences are disturbing given how information is misused on social media. We fear, for example, that this shocking footage of Andros' mother dying may be material used by bullies to emotionally abuse him in the future. ... Your office trampled on the constitutional rights of the Hutchins. The damage your office has done is irreparable."