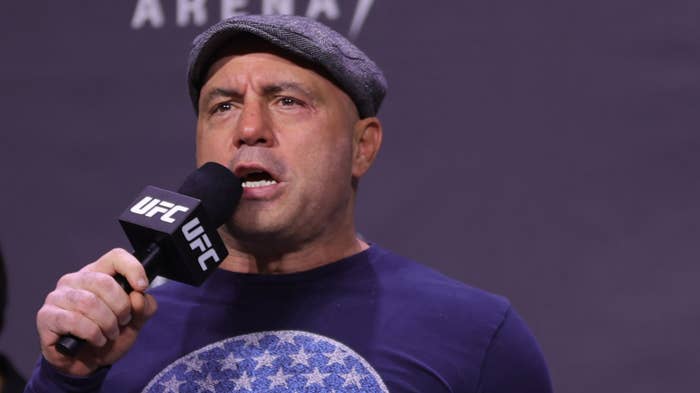 Podcast host Joe Rogan has issued an apology after saying the "N-word" multiple times on the Joe Rogan Experience during several different episodes. 
Rogan, who is already at the center of discussions around vaccine misinformation on Spotify, called a spliced clip of him repeating the racial slur over 20 times the "most regretful and shameful thing I've ever had to talk about publicly." This follows Spotify quietly removing 70 episodes of the show from its platform, per Cnet. 
"There's a video that's out, that's a compilation of me saying the N-word," Rogan says in a clip posted to his Instagram Saturday morning. "It's a video that's made of clips taken out of context of me of 12 years of conversations on my podcast, and it's all smushed together, and it looks fuckin' horrible, even to me."
Rogan continued, adding that he's aware "most people" believe there's "no context where a white person is ever allowed to say that word, never mind publicly on a podcast, and I agree with that now."
"I haven't said it in years, but for a long time, when I would bring that word up, like if it would come up in conversation, instead of saying 'the N-word', I would just say the word," he said. "I thought as long as it was in context, people would understand what I was doing."
Rogan then elaborated on the context of his usage of the racial slur, and said he would often be quoting or referencing points or phrases shared by comedians like Richard Pryor. As he explains, he "never used it to be racist, because I'm not racist." 
Later in the clip, the host addressed another video that featured him calling a "Black neighborhood" Planet of the Apes around the time that he watched the film, in an effort to make his story "entertaining." He now says it "wasn't a racist story, but it sounded terrible."
This isn't the only long clip Rogan has shared in recent weeks, as it follows his video addressing the ongoing pushback Spotify is now facing after multiple musicians have removed their discographies from the platform to protest Rogan—and other podcasts—they're accusing of spreading vaccine misinformation. Neil Young and Joni Mitchell are among those who have left the platform over COVID-19 concerns, while India Arie cited Rogan's history commenting on race when she decided to part ways with Spotify.