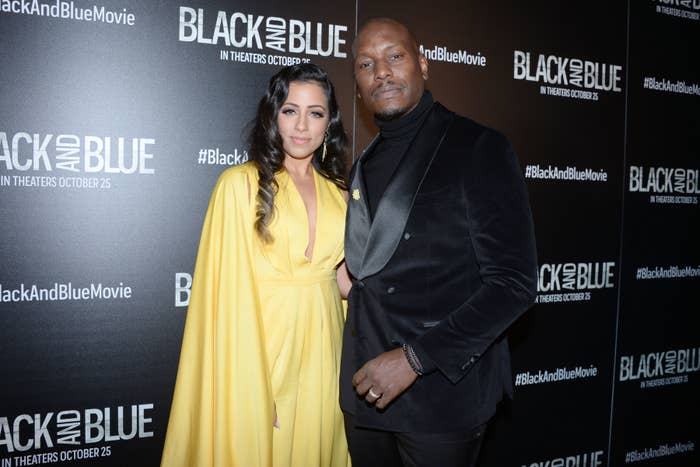 Tyrese Gibson is responding to comments his ex Samantha Lee recently made about their divorce.
In an interview with the Hardly Initiated podcast streamed on Oct. 16, Lee opened up about her tumultuous divorce from the actor/singer and suggested that her emotional state informed the fate of her marriage. "I was not in any position to make that decision, I was extremely emotionally intoxicated," she said, adding that if she'd sought counsel from a "pro-marriage" community, her divorce might have been averted.
While Lee didn't outright say she regrets the divorce—nor did she provide specifics on what happened that fateful day—she emphasized the significance of thoughtful decision-making, saying it's "very important to seek wise counsel," and cautioning against making impulsive choices while emotionally distraught. Lee also mentioned the need for supportive individuals who can provide a balanced perspective in the heat of the moment. "You need somebody to be that person...in those moments."
Elsewhere in the conversation, Lee admitted that she underestimated the involvement of lawyers and the court system in their divorce, stating that they tend to "win" when families fall apart.
Despite the turmoil and headline drama, Lee made a surprising revelation in the podcast when she said she's open to reconciling with Tyrese under the right circumstances. "It's my daughter's father so I would say this…if we were both going to show up and we were both going to fight for it equally and sacrifice equally, like you know things that I needed, and you know things that he knows he needed—I wasn't perfect. If we were both willing to fight and we were both willing to do certain things, then yes…no one wants a broken family."
However, Tyrese took to his Instagram on Monday night to address Lee's comments in an emotionally charged post. The video comes just one day before the funeral of his late sister, Shonta.
In the nearly 12-minute video, the singer insinuated that Lee's intentions were driven by a desire for attention and online virality, stating, "She is loving it. Congratulations, you went viral again over something else that you said 'cause you trying to build up your YouTube page and get your followers up."
Tyrese also questioned Lee's motivations for their split, suggesting that she made her decision independently, and criticizinh his ex for seeking child support. "If you had people in your ear at the time, they must be still in your ear because you still trying to get $20,000 a month for a 5-year-old. You make $160,000 a year on your own," he said.
Tyrese claimed Lee hired three law firms and that his legal fees are approaching a million dollars despite their prenuptial agreement. "You're trying to crack the prenup and it's been three years of it," he said before portraying her as a "narcissist and sociopath."
Further into the video response, Tyrese claimed Lee made previous attempts to reconcile despite him moving on to a new relationship with girlfriend Zelie Timothy. He also urged his followers not to misconstrue his recent singles "Love Transaction" and "Don't Think You Ever Loved Me" as a yearning for reconciliation. "I don't want no one to confuse me releasing songs the way Adele release songs about her ex-husband, the way Jazmine Sullivan and Mary J. Blige release songs about their exes when they get cheated on, lie, get fucked over, when they go through painful relationships that come to an end. I don't want no one to confuse me releasing songs singing about how I feel about Samantha with confusing me wanting this woman back. If I wanted her back I would have got her back. I don't want Sam."
He added in a lengthy caption on the IG post that Lee "broke me in a way that NO other women [sic] has ever broken me." He also wrote, "You've been taking shots at me and Zelie for the last 2 1/2 years…you are desperate for fame you're trying to go viral on my back I want you to leave me the fuck alone this was never love. It was just A 'TRANSACTION.'"
Tyrese and Samantha Lee tied the knot in 2017 and welcomed their daughter Soraya in 2018. The couple announced their divorce in December 2020.