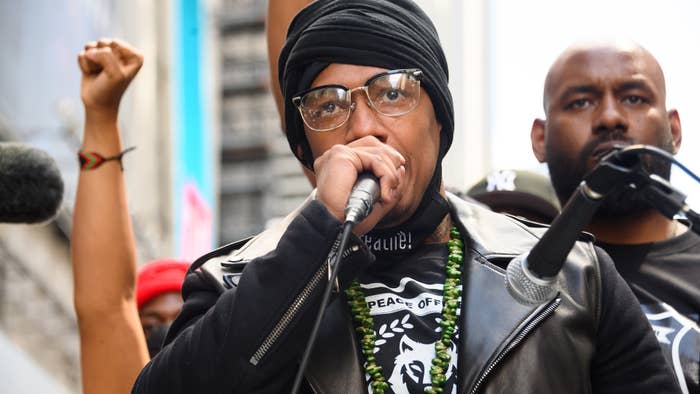 Following the decision by ViacomCBS to drop Nick Cannon, the TV show host and actor is now demanding the media giant give him full ownership of his popular MTV and VH1 series Wild 'N Out. 
ViacomCBS cut ties with Cannon following backlash he received over some anti-Semitic comments he made during his podcast Cannon's Class. Though Cannon sort-of apologized, stating he would be trying to learn and grow from the moment, the mass media conglomerate released the announcement on Tuesday condemning his "hateful speech" and failure to "acknowledge or apologize for perpetuating anti-Semitism."
Cannon is now firing back at the company, writing on Facebook to request full rights to Wild 'N Out and an apology. "If I have furthered the hate speech, I wholeheartedly apologize," he wrote in the post titled "Truth and Reconciliation."
"But now I am the one making demands," he continued. "I demand full ownership of my billion dollar Wild 'N Out brand that I created, and they will continue to misuse and destroy without my leadership! I demand that the hate and back door bullying cease and while we are at it, now that the truth is out, I demand the Apology!"
Cannon went on to allege that the actions of ViacomCBS are an attempt to "make an example of an outspoken black man," and that the company banned "all advertisements that supported George Floyd and Breonna Taylor who we are still seeking justice for."
The Masked Singer host also claimed that he had reached out to the company's chair Shari Redstone "to have a conversation of reconciliation and actually apologize if I said anything that pained or hurt her or her community."
In a statement to Variety, ViacomCBS denied Cannon's claims. "It is absolutely untrue that Nick Cannon reached out to the Chair of ViacomCBS," a spokesperson told the outlet.
They also told Variety that the decision to remove ads supporting the Black Lives Matter movement, which were pulled from their placement during a show called Revenge Prank, happened out of consideration for the subject matter. "We didn't want to be insensitive by placing ads for it next to important and serious topics, such as Black Lives Matter," the company's spokesperson told Variety. "This is standard practice we use with our media agency to ensure that our ads don't come across as tone-deaf or disrespectful."
Tucked into Cannon's response to ViacomCBS, he repeated earlier statements about inviting rabbis onto his show to educate him and correct his anti-Semitic comments. He also announced his plans to go to Israel. "l am excited to announce that I have been invited to Israel which is a lifelong dream where I will receive teachings, lessons and truth about the Jewish history," Cannon wrote. "As someone who is in pursuit for my PHD in Theology and Divinity and just received a degree in Criminal Justice from the Great Howard University, this will be an enriching, enlightening and overall exciting trip!"
Of course, Cannon fans and haters are being fueled by the mess. Among them, none other than 50 Cent, who joined forces with Eminem to attack Cannon at the end of last year. 
Diddy shared his support for Nick and asked him to "come home to [Revolt] truly BLACK OWNED!!!" He added: "We got your back and love you and what you have done for the culture. We are for our people first!!! For us! By US! Let's go!"