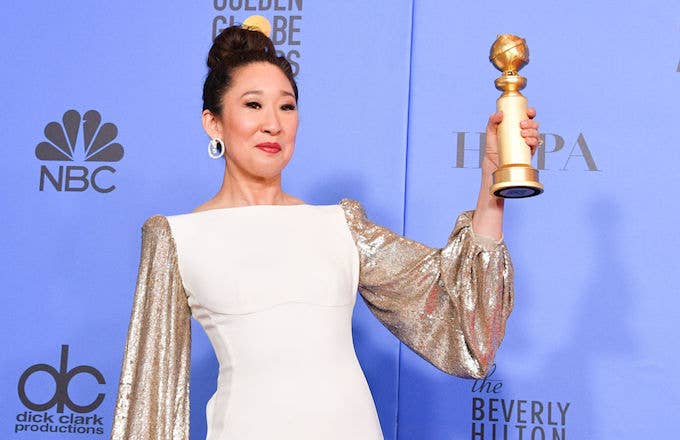 Overall, the Golden Globes were meh. That being said, the lovely, unparalleled, dare I say flawlessSandra Oh won the night. Not only did she pull off stunning outfit changes during her job as a co-host with "Andy Samberg," she won the Globe for Best Performance by an Actress in a Television Series (Drama) for her leading role in Killing Eve.
If you haven't seen Killing Eve, that's tragic, but understandable. Up until last month, the show was only available via BBC, but now that the series is being streamed on Hulu, more people have an opportunity to bask in the glow of Phoebe Waller-Bridge's latest masterpiece.
Netflix agrees everyone needs to watch Sandra Oh and Jodie Comer's doubly smart and seductive cat and mouse chase of a spy thriller. "Every single one of you reading this right now needs to make time in your life to watch Killing Eve," the company posted on Twitter. It also noted how Oh and Comer's work is "NEXT. LEVEL. PERFECTION."
The streaming giant promoted the series, despite not having it on its own service. Instead it directed viewers to its largest competitor, Hulu. Yeah, it's THAT good. 
The international drama is set in Europe, starring Oh as bored MI5 agent Eve Polastri, who gets roped into investigating a prolific new female assassin named Villanelle (Comer). As the show develops, Eve and Villanelle form a balanced obsession with one another, as you become completely obsessed with the show.
The second season of Killing Eve starts April 7.