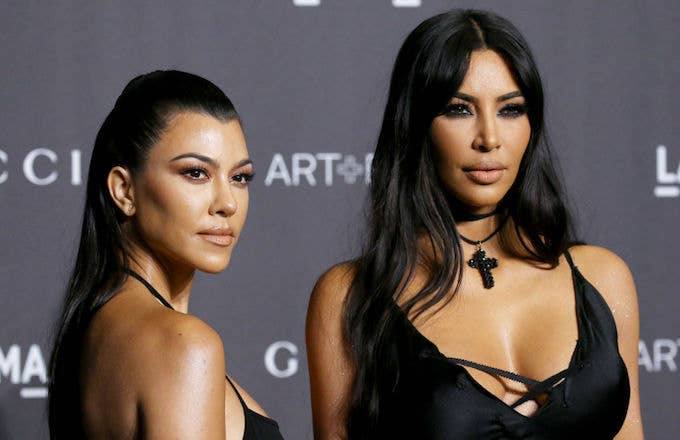 Wildfire spreading in Southern California has forced thousands of people to evacuate their homes, including high profile celebrities like the Kardashians, as USA Today points out.  
Kim went on Instagram Thursday night to reveal she was leaving her Calabasas home with her kids. "Pray for Calabasas," she wrote on her Instagram Story over an aerial view of the fires. "Just landed back home and had 1 hour to pack up & evacuate our home. I pray everyone is safe."  
"Fire fighters are arriving. Thank you for all that you do for us!!!" she added. Kim later shared an IG photo of her family, minus Kanye, sitting outside on the pavement after evacuating. Ye tweeted Friday that the family is safe. 
According to TMZ, by Friday afternoon the wildfire had reached Kim and Kanye's property. 
Kourtney also revealed via IG that she evacuated her home. "I pray that everyone is kept safe and protected from these fires. No Calabasas tonight," she wrote.
Khloé decided to stay put Thursday night with her daughter True, her brother Rob, and her niece Dream, but on Friday morning, she tweeted in a panic asking for an update on evacuations. "The flames have jumped the 101!! I need an evacuation update please," she wrote.
The Kardashians are far from the only victims of this spreading natural disaster. Trey Songz, Alyssa Milano, and Rainn Wilson are among other celebrities who evacuated their homes.