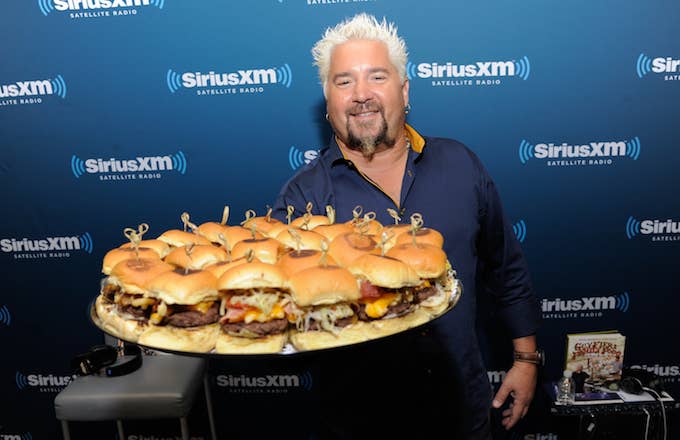 Celebrity chef and television personality Guy Fieri linked with the Salvation Army to provide meals for survivors of the devastating wildfire raging thorough California on Thursday.
Fieri set up a mobile kitchen at the Santa Rosa Veterans Memorial Building parking lot in Santa Rosa. He cooked pulled pork, roasted chicken, coleslaw, bean salad, and macaroni and cheese. Fieri and crew served an estimated 2,500 people.  
Speaking to KQED, Fieri, who lives in Santa Rosa, said he was awoken by his wife as the fire neared their home. "We had to evacuate at 2 in the morning, and we grabbed what we could, taking pictures off the wall as fast as we could. Jumped in the truck, loaded in the dogs, and away we went," he said. The house was fortunately spared from the fire. 
Responding to allegations from people on social media that have said he set up the mobile kitchen as a publicity stunt, Fieri said, "This isn't a PR stunt. You don't see my banners up. I'm not promoting anything. I'm just here cooking. This is feeding people. People need help, and I'm here to help. That's it."
Over 30 people have died from the fires.