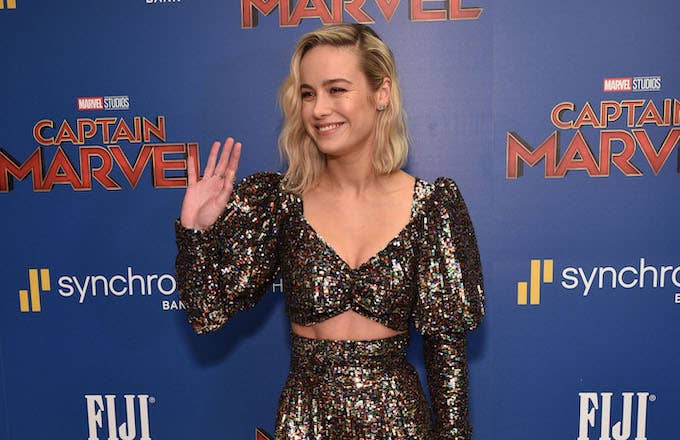 A sequel to Captain Marvel starring Brie Larson is in the works, according to an exclusive from The Hollywood Reporter.
The upcoming film's script will be written by WandaVision staff writer Megan McDonnell. The publication reports that McDonnell is in the final stages of negotiating. The WandaVision miniseries is expected to debut on Disney+ in 2020 while Captain Marvel 2 will likely be released sometime in 2022. WandaVision will see Elizabeth Olsen and Paul Bettany reprise their roles as Wanda Maximoff/Scarlet Witch and Vision.
Captain Marvel, which also starred Samuel L. Jackson as Nick Fury, Lashana Lynch as Maria Rambeau, Ben Mendelsohn as Talos, Jude Law as Yon-Rogg, Clark Gregg as Phil Coulson, and Gemma Chan as Minn-Erva, hit theaters back in March of 2019​. The film went on to make over $1.1 billion at the box office. The new Captain Marvel film, unlike the first, will take place in the present day.
Chief creative officer of Marvel Entertainment Kevin Feige previously mentioned the upcoming Captain Marvel, along with other Marvel movies, at San Diego Comic-Con back in July of 2019.
"We didn't even mention that we're making Black Panther 2 and we didn't mention that Guardians of the Galaxy 3 is coming," Feige said at the time. "We didn't even have time to talk about Captain Marvel 2, by the way. I didn't even have time to talk about The Fantastic Four. And there's no time left to talk about mutants."