As confirmed worldwide cases of coronavirus have climbed to over 1.04 million as of April 3, support—financial, material, and logistical—has been provided by companies and philanthropists as well as athletes and sports organizations. Celebrities, artists, and assorted public figures are also putting a significant amount of money and effort into helping communities and individuals affected by COVID-19, which has claimed more than 55,200 lives globally and been contracted by at least 245,400 people in America.
Here's how Kim Kardashian, Kanye West, JAY-Z, Future, Rihanna, Ariana Grande, Kylie Jenner, Oprah, Justin Bieber, the Michael Jackson Estate, Angelina Jolie, Justin Timberlake, and more are helping fight the pandemic and its far-ranging impact. (And here's the rundown of notable figures who've been sharing their experiences since testing positive for the virus.)
Kelly Rowland
On June 25, REFORM Alliance announced it received a donation of 70,000 masks from Kelly Rowland. The equipment will be funneled straight to prisons and jails in Texas' Harris County, where Rowland raised, as well as the artist's birthplace, Fulton County, Georgia.
"We're grateful to Kelly for her generosity and care for our incarcerated population," stated REFORM Alliance CEO Van Jones. "As our country shifts its attention to re-opening, we can't forget about the millions of people that remain incarcerated and that continue to struggle with the devastating threat of COVID-19. Kelly's donation is crucial in helping REFORM deliver PPE to every prison and jail across America."
Meek Mill
Meek, the REFORM Alliance, and author Shaka Senghor announced plans on April 3 to assist Rikers Island and various correctional facilities nationwide by sending roughly 100,000 surgical masks for use by inmates and staff members facing the coronavirus pandemic. "Governors and people who run jails and prisons in this country need to take the pandemic in Rikers as a warning," stated REFORM CEO Van Jones. "We're in danger of seeing prisons coast-to-coast turn into morgues. It is important to get medical supplies in, and it is equally important to get more human beings out. REFORM Alliance is working on both."
"During these moments of uncertainty, the one thing I am certain of, is that we can share resources with the less fortunate," added Senghor. "These are mothers, fathers, sons and daughters behind bars. They are as much a part of the human family as we are." 
Additionally, Meek Mill and Michael Rubin's REFORM Alliance announced a partnership with Madonna (via her Ray of Light Foundation) and Jessica Alba's husband Cash Warren (via his company Pair of Thieves), as well as other organizations to donate 100,000 additional masks to inmates and staff in various prison facilities. 
"More than 2 million lives in prisons across America are currently at stake due to the COVID-19 pandemic," Rubin said in a statement. "It's absolutely crucial that we protect our inmates and prison staff, especially since social distancing guidelines are difficult to abide by in these facilities. REFORM remains committed to protecting one of our nation's most vulnerable populations, many of whom are currently incarcerated for technical probation violations (not committing a crime), and we're grateful for the support of our partners in this endeavor."
Cardi B
Shortly after news arrived that Cardi had been briefly hospitalized for "real bad stomach problems," TMZ wrote that the Invasion of Privacy artist donated 20,000 meal supplement beverages to NYC-area hospitals. Bottles of the plant-based OWYN will go to medical staff and emergency responders, with Cardi reportedly thinking of workers who often don't get a moment to have a meal during a shift.
Kanye West and Kim Kardashian
In his hometown of Chicago, Kanye West made a donation to local charity We Women Empowered, allowing them to expand their meal deliveries to the elderly. "Today when I got that call, that Kanye West wanted to help the elderly in Chicago and he chose his hometown in the South Side, his old neighborhood, I was beyond words," said Josephine Wade of We Women Empowered. "And in one phone call, in an instance today, our world was changed."
But that's not the only donation Ye has made, as he's also contributed to the Dream Center Los Angeles to help provide meals for those most impacted by the COVID-19 pandemic. The charity is giving away 7,000 meals a day right now, and plans to expand to 9,000 meals.
Kim Kardashian first announced she would donate 20 percent of the profits from her SKIMS Cotton Collection to Baby2Baby, a non-profit that provides essentials to impoverished children under the age of 12 in the Los Angeles area. On March 27 she went bigger and announced SKIMS is donating $1 million "to families affected by COVID-19."
Rihanna
Rihanna's Clara Lionel Foundation has announced its $5 million donation to coronavirus relief groups.
The money will support the distribution of respiratory supplies, acceleration of testing and care in underdeveloped countries, as well as the development of vaccines and therapies around the world. The donation will also benefit local food banks that serve at-risk communities in the U.S.
"Never has it been more important or urgent to protect and prepare marginalized and underserved communities—those who will be hit hardest by this pandemic." Justine Lucas, Executive Director of the Clara Lionel Foundation, said in a press release.

On March 26, Gov. Andrew Cuomo thanked Rihanna and the Rihanna Foundation for donating "personal protective equipment" to the state of New York. 
On March 31, Rihanna's Clara Lionel Foundation (CLF) donated $1 million to COVID-19 response efforts. The money will support "undocumented workers, the children of frontline health workers and first responders, and incarcerated, elderly and homeless populations in New York City and Los Angeles," according to an official statement.
Future
Future's FreeWishes Foundation has teamed up with Atlanta Sewing Style to produce and donate much-needed masks to local hospitals. 
"There is so much that needs to be done during this crisis and if everyone can step up in some way, we can all get through this together as we serve our community," said Future's mother, Stephanie Jester. "I think that our healthcare professionals are the heroes in this situation and they are risking their lives for everyone, so it is our responsibility to help protect them."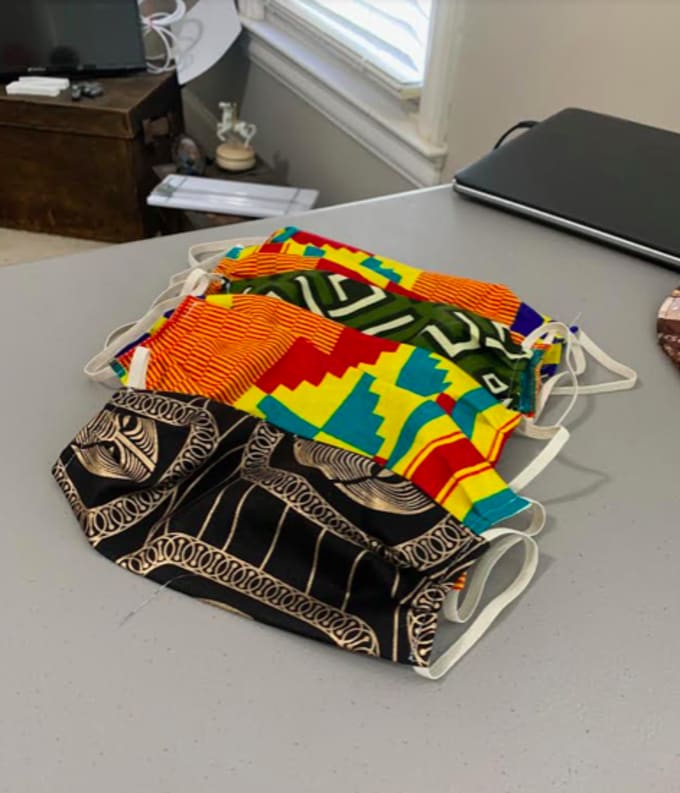 To donate to the #MaskOn Campaign, email info@freewishes.org.
JAY-Z
On March 31, JAY-Z's Shawn Carter Foundation (SCF) announced a donation of $1 million in conjunction with the donation made by Rihanna's foundation for the same amount. According to an official statement, the funds will support "undocumented workers, the children of frontline health workers and first responders, and incarcerated, elderly and homeless populations in New York City and Los Angeles."
Mustard
Los Angeles' Mayor Eric Garcetti thanked Mustard for making a significant donation to the Mayor's Fund LA which will directly help families pay rent, provide childcare services for healthcare providers, and assist in feeding local senior citizens in this time of need. "I want to thank an L.A. original: the producer, DJ, and all-around music impresario Mustard, for a significant donation that he gave to allow us to make sure that seniors are fed, that childcare is there for our healthcare workers, and that direct cash assistance to meet rent, or to help folks get the basics like groceries, is available," Garcetti said.
"Thank you Mustard, you're an amazing musician, and thank you for helping us tonight," the mayor concluded.
YG
YG's nonprofit 4Hunnid Ways, along with designer Sheron Barber, helped those in need by donating $10,000 worth of personal protective equipment (PPE) and delivering the supplies to more than 100 families living in Emergency Crisis Housing in Central Los Angeles. 4Hunnid Ways was set up to help the disadvantaged youth in the Los Angeles area—including YG's hometown of Compton—and includes support from board members Shonee Jackson, Karen Civil, Tamika Boyce, and Marie Thomas. 
In joint statement, YG and Barber explained, "Nothing prepares you for a situation like this, rather than sit by and wait for updates on how people in underserved circumstances are going to be assisted, we took the initiative to listen to the needs of families and provide all the necessary items to help them through quarantine while still practicing social distance."
Jussie Smollett
Jussie Smollett helped supply more than 10,000 masks and care packets through a $30,000 donation to Black AIDS Institute with the PPE supplies going to multiple facilities, including Harlem Hospital in NYC, Cook County Hospital in Chicago, and the Clinic for Us in Lemeirt Park. "He has no idea how much this has helped us," a nurse working at Harlem Hospital said. "He's helping to protect the lives of people who are saving lives. And he called us personally and did it quietly without posturing."
Smollett's donation also went towards supplying emergency relief housing for women and children who have been affected by domestic violence through the Jenesse Center.
Ryan Reynolds and Blake Lively
The celebrity couple has donated $1 million to two organizations that represent food banks in the US and Canada, Feeding America and Food Banks Canada. Ryan Reynolds shared the news via Instagram and Twitter, writing in a screenshotted message, "If you can give, these orgs need out help," he continued. "Take care of your bodies and hearts. Leave room for joy. Call someone who's isolated and might need connection."
Justin Timberlake
Justin Timberlake has revealed that he has pledged money to the Mid-South Food Bank, close to his hometown of Memphis, Tennessee. He shared the news on Twitter, writing, "This is a crazy time, but remember we're all in it together. Start small and support your local communities by getting food out to those in need." He didn't divulge exactly how much he donated.
Ciara and Russell Wilson
The couple has pledged one million meals to Food Lifeline, a food bank that provides food for the Seattle area. Ciara and Russell Wilson shared a video message on Instagram, saying,  "Obviously this worldwide pandemic, coronavirus is changing the world second by second, minute by minute," Wilson said. "People are losing loved ones. The elderly and the young, the people in between."
Ciara added, "We want to encourage everyone out there to join us in whatever way that you can, big or small. Everything that we do together makes a difference."
Justin Bieber
Back in February, Justin Bieber donated money to Beijing Chunmiao Children Aid Foundation, a Chinese charity dedicated to the wellbeing of children as coronavirus swept across China. "Watching the news I couldn't imagine how scary it would be if a new disease was effecting my wife and my family and friends," the singer said in an Instagram video. "China we stand with you as a collective humanity… Whether it be this or the fires of Australia we all need to be there for each other."
Ariana Grande
On Friday, Grande took to IG Stories where she revealed that she would be donating to multiple organizations to fight the coronavirus pandemic. 
"My heart hurts for the small business, individuals, and families affect by all of this," she wrote per The Fader. "I am supporting the organizations below & if u are able to, u should too."
Grande will be contributing relief to the Opportunity Fund for small business relief, Give Directly for emergency cash funding, Feeding America, the Italian Red Cross, and the WHO's COVID-19 solidarity response fund.
Oprah Winfrey
Oprah Winfrey is donating a whopping $10 million donation to coronavirus relief efforts. $1 million of her donation will go to America's Food Fund, which was co-founded by Leonardo DiCaprio and Laurene Powell Jobs. TMZ reports that Winfrey says she'll spread the other $9 million to various communities across the country, including Mississippi and Tennessee, where she grew up. 
G-Eazy  
G-Eazy and his Endless Summer Fund will team with Larkin Street Youth Services to supply meals for at-risk kids in San Francisco. The daily effort will last one month, the duration of the city's shelter-in-place order. G-Eazy will fund a food truck that will head to people who can't gain easy access to drop-in sites hosted by Larkin's, whose mission is to end youth homelessness. "The food truck is Mi Morena and cooks out of La Cocina, a nonprofit working to solve problems of equity in business ownership for women, immigrants and people of color, which supplies a full equipped commercial kitchen," per an Endless Summer Fund press release.
Vanessa Hudgens
Vanessa Hudgens took to Instagram to share a screenshot of a donation she made to Feeding America. "It's a crazy time out there in the world," she wrote. "School closures, job disruptions, lack of paid sick leave and the coronavirus' disproportionate impact on adults age 60 and older and low-income families are all contributing to the demands placed on food banks across the country."
Kodak Black
Kodak Black might be behind bars right now, but that hasn't stopped the rapper from giving back. In a statement shared by his attorney Bradford Cohen to TMZ, it has been revealed that Kodak is donating 625 reading comprehension books to schoolkids in Broward County, Florida. He will also help with other supplies and notebooks, hoping to help kids in grades one through five meet the state standards in reading during a time in which schools across the country are shut.
Cohen added that Kodak is providing $5,000 in educational materials for these children, and that they expect the supplies to arrive next week.
Donatella Versace
The fashion mogul Donatella Versace and her daughter, Allegra Versace Beck announced that they donated €200,000 (approx. $224,000) to Milan's San Raffaele Hospital and its ICU. Italy has been hit particularly hard during this time, with 115,000 confirmed cases as of April 3.
"In times like this, it is important to be united and support however we can to help all those who are in the front lines, fighting every day to save hundreds of lives,," her statement read. "Our hearts go out to all those who have been affected by this disease and to all the doctors and medical staff who have been working heroically non-stop in the past weeks in the effort to take care of our loved ones."
Amy Adams and Jennifer Garner
Amy Adams and Jennifer Garner have teamed up to launch a new initiative, #SaveWithStories, which aims to support families in need. "These funds will help us make sure that families know how to find meals when schools are closed, support mobile meal trucks, food banks and other community feeding programs, provide educational toys, books and worksheets, and support out-of-school-time programs to help kids make up for lost time in the classroom," Adams writes.
Jake Johnson
Jake Johnson, who portrayed Peter B. Parker in Spider-Man: Into the Spider-Verse, is providing free voice messages to life the spirits of kids under quarantine. "Since the quarantine a lot of parents have DM'd me saying they've been watching Spiderverse with their kids," Johnson wrote on Instagram.
"So, here's my idea. If your child is home from school and wants a quick encouraging message from Peter B Peter, then send me an email with their name and I'll try and send over a short voice note. If I don't get you, I apologize." He provided the email, peterbparkersayshi@gmail.com, in the post.
Tyreek Hill
Kansas City Chiefs wide receiver Tyreek Hill has donated 6,000 meals to people impacted by closures in Kansas City. He announced that he's working with Harvesters in KC to help families who previously relied on breakfast and lunches from schools. "As the world endures a difficult time due to COVID-19, I am happy to partner with @harvesters to donate 6,000 meals to families," he wrote.
He also challenged his fellow teammates to do the same, including Pat Mahomes and Travis Kelce.
FaZe Clan
FaZe Clan, Torque Esports Corp, and UMG Media Ltd. have partnered to launch an online Call of Duty: Warzone Pro-AM tournament to raise money for groups affected by COVID-19, Yahoo! Finance reports.
Named #Fight2Fund, viewers can watch the stream on FaZe Clan's Twitch channel, UMG's channel, and individual players' feeds. Competitors have been split into 16 teams with three players each, and face off in a bracket-style tournament with celebrities like Ben Simmons and Juju Smith-Schuster, as well as FaZe Clan members Nickmercs, FaZe Apex, FaZe Temperrr, and other gamers.
On March 18, Cleveland.com's Mary Kay Chabot reported that Baker Mayfield and his wife, Emily, donated $50,000 to the Cleveland FoodBank.
Arthur Blank 
Blank, who's known for being the co-founder of Home Depot and owner of the Atlanta Falcons, is donating over $5 million to COVID-19 relief efforts. The money will be going to to the Greater Atlanta COVID-19 Response and Recovery Fund.
"As a Family Foundation we have always believed that it is the power of many that will make the greatest impact on the most pressing issues in our society," Blank said in a statement. "This is that moment -- to join together to truly harness the power of all of us to address a challenge that knows no boundaries and has no precedent in our lifetimes."
Christian Siriano
Christian Siranao will use his design skills and resources to produce protective face masks for health workers.
The Project Runway alum took to Twitter, offering his assistance to New York Gov. Andrew Cuomo: "If @NYGovCuomo says we need masks my team will help make some" he wrote. "I have a full sewing team still on staff working from home that can help."
The governor later confirmed that his team was in contact with the designer.
With her mother Kris Jenner, Kylie is also utilizing Kylie Skin to make hand sanitizer for Southern California hospitals to "be donated to workers taking on the public health crisis," TMZ writes. Every bottle will reportedly feature the words, "Dedicated to first responders working to support our communities."
Ralph Lauren
The Ralph Lauren Corporate Foundation is putting $10 million toward several coronavirus-related causes. One is the WHO Covid-19 Solidarity Response Fund, which aids nations worldwide as they combat coronavirus. $1 million will go to Vogue's A Common Thread initiative, and the designer will help out cancer hospitals working with immunocompromised chemotherapy patients. Lauren is also making 250,000 masks for U.S. medical staff and 25,000 isolation gowns.
"At the heart of our company, there has always been a spirit of togetherness that inspires our creativity, our confidence and most importantly our support for one another," Lauren told WWD. "In the past weeks and months, that spirit has never wavered. We believe that no matter who you are or where you are from, we are all connected. That is why we are taking significant action to help our teams and communities through this crisis."
Angelina Jolie
Jolie pledged $1 million to No Kid Hungry. "As of this week, over a billion children are out of school worldwide because of closures linked to coronavirus," the actress/director/producer said in a statement. "Many children depend on the care and nutrition they receive during school hours, including nearly 22 million children in America who rely on food support. No Kid Hungry is making resolute efforts to reach as many of those children as possible."
Conor McGregor
The opinionated UFC star is donating €1 million to buy and donate medical supplies to hospitals in his native Ireland. He shared screenshots on Twitter showing his conversation with Ireland's Minister for Finance Paschal Donohoe:
Quality Control
On March 26, Quality Control Music CEO Pierre "P" Thomas and COO Kevin "Coach K" Lee announced a $100,000 donation to GOODR with the goal of feeding in-need families in Atlanta.
 
The first 1,000 families that sign up will receive free groceries, according to the label's Instagram post.
DJ Khaled
DJ Khaled and his wife, Nicole Tuck, announced that their We The Best Foundation will be partnering with Direct Relief and simplehuman to help healthcare workers in New York and Miami get the supplies they need.  

"Helping our local community when and where we can has always been our mission since we started the We The Best Foundation back in 2018, DJ Khaled said in a statement. "By partnering with Direct Relief, Nicole and I are able to reach the medical staff who are most at risk in local hospitals in New York and Miami. It's important to us to take care of those who take care of us."
Maluma 
Maluma's foundation, El Arte de los Sueños is delivering groceries to the families of the 170 youths served by the foundation. The foundation has also made donations the health system in Columbia, having donated "respirator-mouthguards with N-95 valves, single-use hospital uniforms and more than 10 thousand units of gloves to entities such as the Hospital San Rafael in Venecia; the Ces Prado Centro Clinic and the San Vicente Hospital Foundation in Rio Negro," according to an official press release. 
On a lighter note, Maluma released the video for "Que Chimba," which you can watch below. 
Tom Brady
Tom Brady is teaming up with the private aviation company Wheels Up to donate 10 million meals to families. According to Bleacher Report, the donation, equals a $1 million contribution to Feeding America.
Jeff Bezos
Jeff Bezos is donating $100 million to Feeding America, TMZ reports. The money will reportedly help "replenish its national network of food banks and pantries," with the goal of "getting food to those countless families who need it."
Pink
On April 3, Pink shared that she caught a case of the coronavirus, but thankfully recovered.
"Two weeks ago my three-year-old son, Jameson, and I [were] showing symptoms of COVID-19," the note said. "Fortunately, our primary care physician had access to tests and I tested positive. My family was already sheltering at home and continued to do so for the last two weeks following the instruction of our doctor. Just a few days ago we were re-tested and are thankfully negative."
In an effort to support the healthcare professionals, Pink announced she would be donating to two charities that are helping the coronavirus relief efforts. She is donating $500,000 to the Temple University Hospital Emergency Fund in Philadelphia. She is also donating $500,000 to the City of Los Angeles Mayor's Emergency COVID-19 Crisis Fund.
The Chainsmokers
The Chainsmokers, which consists of Alexander "Alex" Pall and Andrew "Drew" Taggart, donated 20,000 KN95 masks to two hospitals with 10,000 going to NYC's Weill Cornell Medicine and 10,000 going to Las Vegas' University Medical Center.
Sincerest thanks to @TheChainsmokers for donating 10,000 N95 masks to #WCM to protect our #HealthcareHeroes on the frontlines. Grateful to #NewYorksFinest from @NYPD and @BrooklynDiocese's Emergency Taskforce for ensuring safe delivery of #COVID19 supplies. #TogetherWithWCM pic.twitter.com/OZYOZjSLxb

— Weill Cornell Medicine (@WeillCornell) April 16, 2020
Thank you to @TheChainsmokers for donating 10,000 KN95 masks to UMC. Want to join The Chainsmokers in supporting Nevada's highest level of care at UMC? Visit https://t.co/fTpAuQbJzW to learn more! pic.twitter.com/KnkG0REEQ9

— UMC Hospital (@UMCSN) April 16, 2020
Shakira
Shakira donated thousands of N95 masks as well as ventilators to her hometown of Barranquilla, Colombia.
The mayor of Barranquilla tweeted a video of himself wearing a mask, and thanked her in the caption. "One of the most beloved Barranquilleras in the world is @shakira, and she is also one of the people who most love Barranquilla," he wrote. "Huge thank you for your contribution of thousands of N95 masks for our health care workers, and ventilators that will save lives."
Don Toliver
On March 12th, Don Toliver donated 300 prepared lunches for frontline workers at Houston's United Memorial Medical Center. Joined by local Congresswoman Sheila Jackson Lee, and with support from Houston Mayor Sylvester Turner, the trio partnered with local restaurant Lost & Found Midtown to provide the meals as a way of giving thanks to the workers.
"The COVID-19 pandemic has hit underserved populations and communities of color particularly hard," Congresswoman Lee said in a statement. "Vulnerable communities, particularly African Americans, are dying everyday due to COVID-19.  The most recent report shows 1,369,496 infections and 80,653 deaths in the United States, while Texas has 38,869 infections and 1,088 deaths and Harris County has 7,878 infections and 172 deaths. The fight for testing, testing, testing is crucial, and it cannot be achieved without outstanding medical teams and medical teams supported by a strong hospital like United Memorial Medical Center. Testing, data collection, contact tracing, and hospital care are all provided by dedicated medical providers who are clearly on the front lines helping save lives and continue to provide people with testing, testing, testing to fight this deadly virus." 
Trippie Redd
Trippie Redd teamed up with Purity Organic and Sweet Leaf Tea, to supply various beverages to frontline healthcare workers all over the country, in placed like New York City, Los Angeles, and his hometown of Canton, Ohio. Over 30,000 bottles of beverages were provided.
"This is my way of giving back to the healthcare workers who are working so hard to help people fight off coronavirus," Trippie said in a statement. "I just wanted to show my gratitudeand do whatever I can to help out all the people who are trying to keep us safe."