Although actors-slash-producers Joshua Jean-Baptiste and Edson Jean had stopped by The Wendy Williams Show in late May to discuss one of their biggest accomplishments—the premiere of their new scripted series, Grown—Wendy couldn't help but press them on the issue she found most important: whether or not they were single. The young creatives stopped by Complex's offices after the show and the way they processed their time with the daytime diva offers a look into how their real-life personalities mirror their onscreen personas.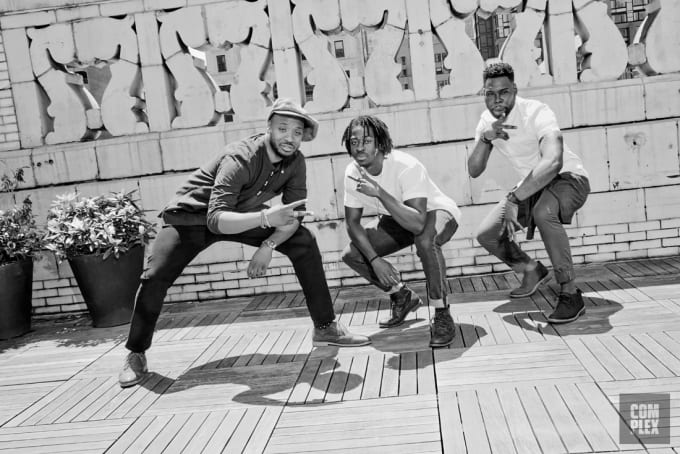 "Bro, her audience is full of women," says Jean, 29, which is what his character, the promiscuous and problematic struggling actor Wes, might say.
"I'm just tryna get 'em to watch the show… fuck a date," deadpans Jean-Baptiste, 28, which likely would be the concern of his character, Josh, a wannabe social media star chasing viral fame.
The room dissolves in laughter at them both, which is a common occurrence for these two hilarious friends, who first met as acting students at New World School of the Arts in Miami. Together they wrote, starred in, and directed Grown, a raw coming-of-age story that follows Wes and Josh, a pair of twentysomething cousins who move in together after the death of Josh's mother. From there it's one misadventure after another on their bumpy journey into adulthood.
The full eight-episode season launched May 22 on Complex, and marks the brand's first foray into scripted content. Jean says although they fielded offers from other platforms, the chance to partner with Complex as they expand into this new area of programming was attractive.
"The fact that it was [Complex's] first time was actually, for me, very intriguing because it reminds me of a story that I read before about Breaking Bad when Vince Gilligan was telling his friends, 'Hey, I sold my show.' And they'd be like, 'Good luck, bro, like no one knows what AMC is,'" Jean says. "But the content of the show literally is what mattered. So the fact that it was something new, Complex hadn't done it before was the perfect opportunity to not be submerged under too much content. We get more specific and clear eyes, which I think is a wonderful opportunity."
Grown aims to bring viewers into a world that is culturally specific—the characters (like the actors) are Haitian-Americans who live in the non-glamorous part of Miami, and at times you'll hear Creole being spoken as they jaunt through little-known communities around the vibrant city. "Generality is the killer of all art. That is the mantra that we recite very frequently, and specificity is the key," Jean-Baptiste says to explain why presenting a look at these cultures is so central to what makes the series unique.
But Grown is also broad enough for many people to hopefully connect—basically, it's the story of two young men trying to figure life out, but it's the blind leading the blind.
"One thing I think would be universally compelling is that my character is going through a lot of transitions in his life, whether it's being an adult because his mom passed away and he's literally thrust into adulthood," says Jean-Baptiste. "The discovery of your authentic self, I think that's something in the character that people will be able to identify with."
Jean echoes those sentiments. "I find that both of our characters, even if they are so different in the way they approach their lives, they're compelled by their search for identity. As two young men, identity isn't necessarily established because so much of that identity they find is contingent on the world around them instead of looking inward. It's a constant search for that; that is the crux of it and so many branches come from that root."
While Grown is new to Complex, the seeds for the show were planted several years ago. In 2016, an early version then called #Josh won the inaugural #GetTheGreenLight web series contest by Project Greenlight Digital Studios. It was a partnership between Adaptive Studios and the same team behind the HBO Project Greenlight series executive produced by Matt Damon and Ben Affleck. After they won the contest, Jean and Jean-Baptiste met with execs at Adaptive to flesh out what the series could become. They also met with Affleck himself.
"He flew us out to LA and we met up with him and he really was into it and said he saw Matt and himself in us, two young artists starting to appear," Jean recalls.
With an A-list cosign and the support of industry vets who could shape their ideas, the vision for Grown started to evolve toward its current iteration. "From what was the original win, Project Greenlight for a short-form digital series, elevated into a 23-minute, 30-minute scripted dramedy. So therein lies the shift right after we met Ben," Jean says. "I feel like my life is changing every day. After that meeting things started happening, we're going into pitch rooms, we're preparing to actually pitch a show. It just sort of steamrolled from there." One such pitch room just happened to be with the leadership team at Complex, and a collaboration was formed.
Interestingly, Project Greenlight Digital Studios was not the duo's first taste of success when it comes to filmmaking competitions. Jean's first short film, The Adventures of Edson Jean, broke through in a competition at the American Black Film Festival and was licensed to HBO in 2013. For novice content creators looking to break into the business, contests have long been touted as one way to go about it. But Jean and Jean-Baptiste insist it's not the only way. In fact, they encourage newbies to eschew formulas altogether.
"Our path has been so different: We said we're not gonna move to LA, and we're not gonna move to NY, so right there off rip it was everything against what people said we should do to make it in this business," Jean explains. "Then we started writing, just creating something on our own without any sort of relationships. We weren't doing spec scripts or any of these other formulaic directions that people would say go in, and actually because we did our own thing and we went against the grain, opportunity provided itself. So I would say the first thing is to understand that there is no secret sauce. And maybe the secret sauce is just find your own way."  
I would say the first thing is to understand that there is no secret sauce. And maybe the secret sauce is just find your own way.
Jean-Baptiste boils it down even further. "If there is some kind of common denominator I would say it is just the fact that we were writing for the sake of creating. We had an organic chemistry and we realized that we had stories we wanted to tell, and however we could tell that we would do it," he says. "Slowly but surely, project by project, we started getting better at what we were doing and we started taking ourselves more seriously. Then work just kind of came."
You can watch all eight episodes of Grown season 1 on Complex. As for whether there will be a season 2, the creators again showcase their humor and complementary personalities. "You might wanna holla at Complex about that," Jean-Baptiste fires off initially. "We approach life in a way where what you believe in is what happens for you," Jean jumps in. "We're not sitting here waiting for the green light to write—that's the way we started this project. Should it actually get the green light and go, we don't know, but are we approaching it that way? Yeahhhh."