As the beautifully somber sounds of Nina Simone's rendition of "I Shall Be Released" played during the end credits of the season finale of Atlanta Robbin' Season, "Crabs in a Barrel," it felt, to me, as if this not only worked as a beautiful ending to the season, but also a fitting series finale. I wasn't alone in that thought.
For some reason I got an eerie feelin that might be the last episode we ever get. God Please Forbid 🙏🏾#AtlantaFX

— Dashiki Dre 🇧🇿 (@Dre_GetRiteLite) May 11, 2018
THE COUCH#AtlantaFx

this might be the last episode of the series omg

— untitled. (@sasflexi) May 11, 2018
I hope we haven't seen the last episode of #AtlantaFX.

— Jon (@JonTheEmpire) May 11, 2018
I'm firmly willing to accept that we just saw the last episode of #AtlantaFX. Not for the season, ever.

— Jay (@JayDSarkar) May 11, 2018
Last night's season finale worked in a number of ways. One of the main story arcs throughout Atlanta Robbin' Season was Earn's continued failures as Paper Boi's manager. From the beginning, we were given the comparison: Clark County was a popular, bubbling artist who, with the help of his manager Lucas, was landing YooHoo commercials and Fast & Furious soundtrack placements. Under Earn's guidance (or lack thereof), Paper Boi ended up with cut-up Adidas from a college gig gone wrong and an undying concern over funds. No one was surprised that, after the college gig from hell, Alfred told Earn that he'd been speaking with Lucas about managing him. It might have been time for a change.
"This makes for a complete season, but not a proper series end," you might think, but hear me out. Go back to how Glover had been selling Atlanta from jump: it's always been "Twin Peaks with rappers," with the pitch being about a guy managing his cousin in the rap game. Go back to episode one of season one, where Alfred tells Earn that he needs someone who's more Malcolm than Martin. What else shows that Earn is ready to manage a man and artist of Alfred's caliber than (spoiler alert!) dumping the golden gun that his Uncle Willy told him he'd need in the music business in Clark County's bag while they were in the TSA check-in line? That move, which Alfred admits that he saw, is what helped strengthen their bond, and showed Alfred that Earn's willing to do what's needed to be done to get shit taken care of. If that's not a wonderful bow on that entire storyline, I don't know what is.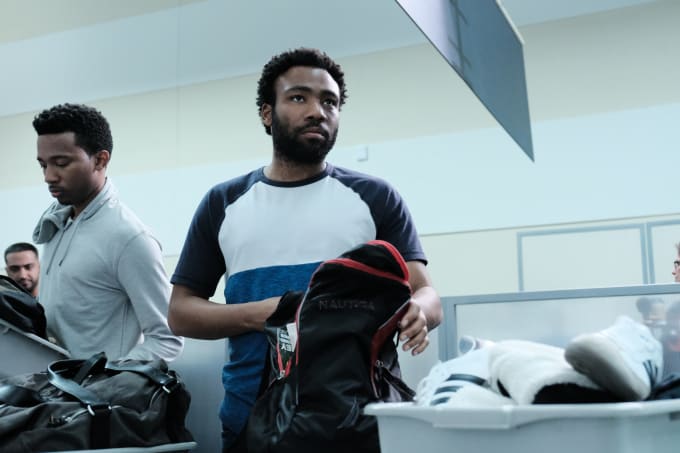 Again, you could be saying "but, dog, isn't that more just highlighting how Atlanta Robbin' Season really was influenced by the 1992 Tiny Toon Adventures movie How I Spent My Summer Vacation?" Sure, you could say that; the gun's appearance in the first and last episodes of Robbin' Season really highlights how the season was, effectively one long-ass movie with a bunch of different plots and stories that reconvened in the end. But this finale didn't just wrap that Al/Earn saga up. We got to see Earn and Van trying to figure out schooling for their daughter, which included a touching goodbye scene where Lottie lightly touches her father's face. We also learn that Van's planning on moving back with her parents. Hell, we not only got to go on one more adventure with Darius, but we also got a hilarious callback to the friction between Tracy and Earn that kicked off in episode one of Robbin' Season. This episode's director (and frequent Glover collaborator) Hiro Murai said that they included that bit because it was funny, but it really does help tie a bow on things. We even got a scene with Al, Darius, and Earn on that couch in the field that they spent time on throughout season one.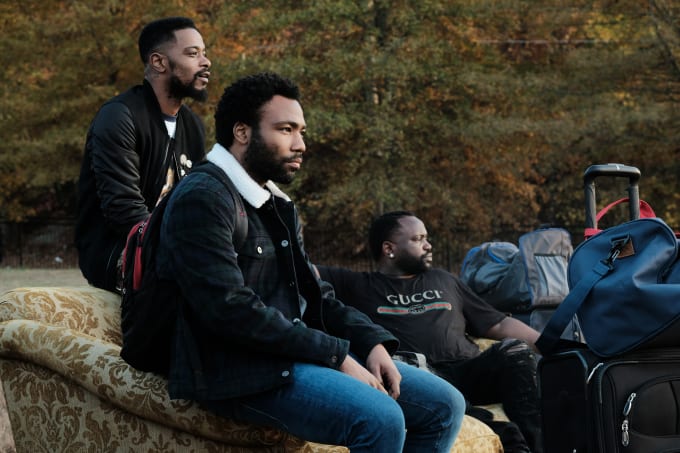 Speaking of Murai, it was announced just hours before the broadcast of "Crabs in a Barrel" that he had scored a development deal with FX. "[Murai] helped make Atlanta the most acclaimed comedy series on television," said Nick Grad, original programming president for FX Networks and FX Productions, "greatly contributing to its signature style and tone and becoming an integral part of the creative team led by Donald Glover. With his boundless artistry, Hiro is poised to take the next step as a television creator." Grad's comments reminded me of the sentiment he gave Glover when his development deal was announced in January of 2017. You remember that deal, right? It was under that deal that Glover was to bring an animated Deadpool series to FXX. The same series that was deaded back in March, to which Glover turned up the petty and "leaked" the script to a Deadpool finale that, at times, appeared to call into question if FX was riding for Glover's vision or not. It was that, plus comments he'd made in the press leading up to the return of Atlanta, that had me theorizing that Glover might be ending Atlanta after the end of season two, and with Murai getting a (well-deserved!) deal with FX, one has to wonder: is this the first step in Glover and FX amicably splitting?
Looks, that's just a theory. I could be completely off the mark, but let's not forget: Atlanta got a season two renewal two weeks after it premiered. It posted solid ratings with its season two premiere, and has been a critical and fan favorite. Is FX just taking its time to announce a third season? Is Donald Glover, one of the busiest men in Hollywood, ready to get the writer's room back together to churn out another season of excellent television? It's hard to say, currently.
Honestly, as much as it pains me to say it, I'd applaud Glover and company for dipping while the show's at its peak. There are too many terrible tales of artists and athletes sticking around for far too long, just because they can. Atlanta's already gifted the world the creative genius of Donald Glover, the beautiful visuals of Hiro Murai, the offbeat awesomeness of Lakeith Stanfield, Brian Tyree Henry's everyman swagger, Zazie Beetz's depth and beauty, and much more. It might make sense that we all leave the couch where it is, and watch these peaches blossom.