At the upper bar of the Gansevoort Park Avenue Hotel on a chilly, gray December afternoon, sauvignon blanc is flowing and Stassi Schroeder is gossiping. Herself an experienced mean girl, having spent the last four years as the villainess of Vanderpump Rules, Stassi knows the ins and outs of the trade, and also how to spot one. And this is how Taylor Swift comes up.
"I feel like I'm one of the only people that thinks that," Stassi says about Swift, her face lighting up, somehow surprised to learn that someone else felt this way.
She could have left it there, but something in her—maybe the killer instinct that's made her such a good villain, or maybe just the wine—makes her keep going. "She's a fucking mean girl."
And then one more twist of the knife. "I think she does weigh-ins: 'If you're over 120 pounds, byeeeeee!'"
Vanderpump Rules' ascent into the zeitgeist has been a gradual one. No longer just relegated to Bravoholics, it's been covered by The New Yorker's Emily Nussbaum, and most recently, The New York Times did a piece about a bar crawl the cast did in New York City to promote season five. Vanderpump has filled a void in reality TV that we didn't even realize was missing—amongst the Housewives, the Bachelors and Bachelorettes, and the myriad of singers and chefs, there wasn't really anything about working twentysomethings. People who were beautiful, surely, but who weren't quite rich, just living out their supremely messy lives. Centering on a group of typically hot L.A. babes who work together at Lisa Vanderpump's SUR (Sexy Unique Restaurant), the show carries on a gilded legacy established by classics like Jersey Shore, The Hills, and Gallery Girls.
Stassi had a central role in the rise of Vanderpump. When the show premiered in 2013, she was at the center of the SUR drama, dating Vanderpump Rules' resident old man about town, Jax Taylor. Drama perpetually found Stassi and Jax's up and down relationship—hardly a week went by without rumors flying about him sleeping with one of her friends. But even though she was the one being constantly wronged, her ferocious response to the drama—in the form of vicious barbs and a startling ability to freeze out those around her—made her seem terrifying. Over time, she was deservedly added to the list legendary reality TV bitches like Kristin Cavallari, Teresa Giudice, and NeNe Leakes. Even after receding from the Vanderpump spotlight (she was only recurring in season four and quit SUR before that), Stassi's brutal honesty on the show remains pronounced. Talking to her now, Vanderpump's Queen Bee is self-aware and reflective about her place in reality TV's canon.
One thing you wouldn't expect upon meeting Stassi is the way she emanates warmth. She has a charisma that makes talking to her feel like catching up with an old friend, not one of reality TV's preeminent villains. I'm clearly not the first person to feel this way, and Stassi is more than capable of addressing the jarring difference between her on-screen persona and her real-life personality. "Even back then [in season one], I was not a scary person," she says. "Season one, you're watching my reaction to people who I think are assholes. I would never be rude to somebody that I've just met."
She continues, taking aim at what she sees as the unfair way she's been portrayed as a villain. "I take full responsibility for the things I said, the things I did, [but] you're not seeing every side of everything. You're only seeing my mean reactions. I'm a little more frustrated with this season because I didn't feel that—I'm not a bad influence on my friends. It's not like that at all." Stassi then adds: "Unless I'm incredibly delusional or un-self-aware."
Stassi has spent her life on reality TV. When she was 17, her family appeared on The Amazing Race. At 20, she was part of The N's Queen Bees, a show about teenage mean girls. By then, she had already developed a penchant for drama; she served as president of her Catholic school's drama club. Talking about her appearance on Queen Bees, the line between Stassi's persona and personality blurs; it's hard to tell where one ends and the other begins. "I'm abrasive, I'm aggressive, I can be a little colorful with my language," she says. "I'm a fan of revenge but I don't feel like I'm mean."
She also suggests how aware she was, even at a younger age, that reality TV relied heavily on fiction. "I made up all these things [for Queen Bees], like, 'If you wanted to be in my group of friends, we'd haze you in a cemetery.'"
Vanderpump Rules is Stassi's baby, a documentation of her twenties, something she can look to any time she needs a reminder of how much she's grown up. "What makes our show so special is just the fact that we were this group of friends," she says. "We were a fucked up crew for years. We were crazier before we even had a show, if you could imagine. Way more drama, crazy fights, cops being called. But that's what made the show so good, because it was so real."
In a way, the bond between the original cast of Vanderpump Rules—Jax Taylor, Kristen Doute, Katie Maloney, the Toms (Sandoval and Schwartz)—is what has allowed it to maintain such a high level of drama. Because as producers have incorporated fresh blood into the mix—a tried and true trope of reality TV if there is one—the result has been similar to throwing a match into a pool of gasoline. This season, newcomers James Kennedy and Lala Kent accosted the original cast at Skybar to ask if they had been "working on their summer bodies;" James also made a jerking off motion towards them, with a vodka-cranberry in hand. Though Stassi understands the point and nature of the show she appears on, she says that level of disrespect is inexcusable.
"Vanderpump is our child—I feel like I gave birth to it, we all at different times did," Stassi says. "You don't get to come in and reap the rewards and benefits of something we built. Sit your ass down, and sorry, but fall in line. Know your place. I sound like an asshole but I really feel all of this very, fully, and truly." The tension between the core group and James and Lala is frustrating to Stassi because of how this season has painted their interactions. "It looks like we are bullying Lala, but what sucks is that in the off-season, she can go on every podcast or every interview and tweet and Snapchat saying the worst things."
It's a constant emotional war, being mired in so much drama directly related to your personal life—but also that's your job. That's one of the reasons why Stassi had to step away from the show. "I had to figure shit out because it wasn't just a show, it wasn't just a job, it was my friends, and I had to question everything." That's also why she had to quit SUR—not just to focus on her own projects, but because as the show got more visible, she realized that she wasn't equipped to deal with the attention. "I quit right after I finished shooting season two. Only one season had aired, and I could not handle that fishbowl atmosphere of people staring at you nonstop. Every hour, I would have to grab a glass of wine, go in the bathroom, and sit on the floor and chug it."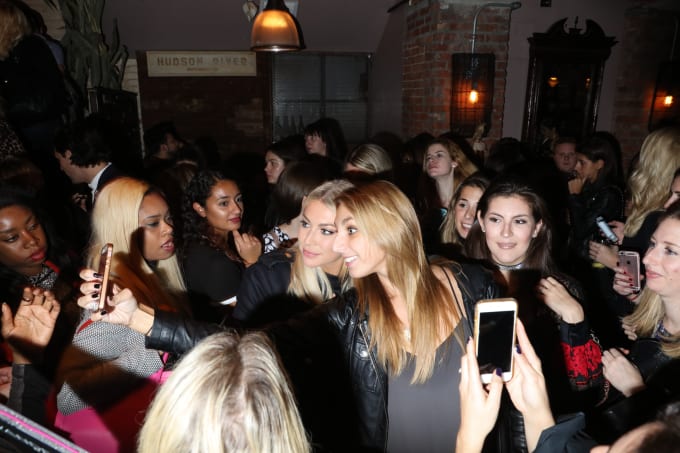 Time away from SUR and the show allowed her to begin to figure out her own pursuits, which included a fashion blog (that she's revamping because posting only selfies of what she was wearing felt disingenuous to her) and her podcast, which she's most passionate about. She grew up loving talk radio, listening to Howard Stern, and admiring brassy broads like Joan Rivers, so without a producer or someone to help with structure, Stassi did it on her own. She describes her podcast, Straight Up With Stassi, as a show that makes "women feel like they're sitting around getting wasted with their best friends talking about things that they normally don't talk about in public." Almost 100 episodes in, she's received good responses from listeners, messages thanking her for her candor when talking about breakups or depression. The positive responses have helped her realize what exactly she could do with the platform Vanderpump has afforded.
I mention an Instagram post of hers linking to a petition to remove Judge Aaron Persky from the bench for his ruling in the Brock Turner rape case. "When I feel passionate about something," Stassi jumps in, "I make sure to talk about it as much as I can because I know that I really have the ability to bring awareness." 
At this point we've had two glasses of wine, so the annoying, prying questions start to fly. What is her relationship with Jax like, after everything they've been through?
"That was my issue in season three—it was just too hard on me. Now I feel lucky that so much time has passed that we've gotten to a place where I can appreciate him for who he is."
Is she single?
"I am so fucking single. You have no idea."
As with any twentysomething Los Angeles resident, Stassi agrees that dating in the capital of Attractive People is wretched (although she is on a dating app), but her television ties add another obstacle to dating. "What makes it really hard is that anyone who's in my life at all, in any important way, my producers and Bravo want to see it. And that's really hard to have that conversation with someone, to ask that of someone." Ultimately, she's glad she's single, so she can figure some stuff out for herself, but of course that doesn't mean she doesn't get lonely. "Last night, I came home to my hotel room, and I looked at my phone and I was like, I legit don't have anyone to even just be like, 'Hey, what's up?' I have no prospects. I got super emo. Like, this is kind of sad, what am I doing wrong?"
The preconceived notions I had about Stassi continue to be blown away. I learn about her love of comedian Chris Lilley (she'd marry him) and horror movies (she loves The Shining), that she's a Bachelor addict and that she 100 percent believes in ghosts. She shows me the pictures from her breast reduction, orders us another round, and we talk about our respective anxieties about unlikely catastrophic shit happening, like getting a hoop earring torn out of an ear, or having a ceiling fan falling on our face. 
A man interrupts, telling Stassi that his wife would never forgive him if he didn't get a selfie with her. She's warm and kind to him, takes the picture and tells him to tell his wife hello. I ask her about how Vanderpump has seemingly exceeded its popularity with this new season, how binging the show may have been a form of self-care for many after the 2016 election. "You know what? It makes me feel like I have a little extra sense of purpose," she responds with a laugh. "I can take people out of their depression over what's going on in the world. It makes me feel like, okay, I'm not worthless. I think it's very easy when you're doing a reality show to be like, what the fuck am I contributing to the world right now? What am I doing? So, that makes me feel a little better."