Instagram has been driving a hard line with women who post nude photos—everyone from Chrissy Teigen to Cara Delivingne to Chelsea Handler to Willow Smith have been protesting the removal of their topless pics and asking the Instagram to #FreeTheNipple. 
But one artist has found another way to fight back at the photo-sharing platform—in June 2014, Micol Hebron created a "male nipple template" for women to use to make their topless photos "acceptable."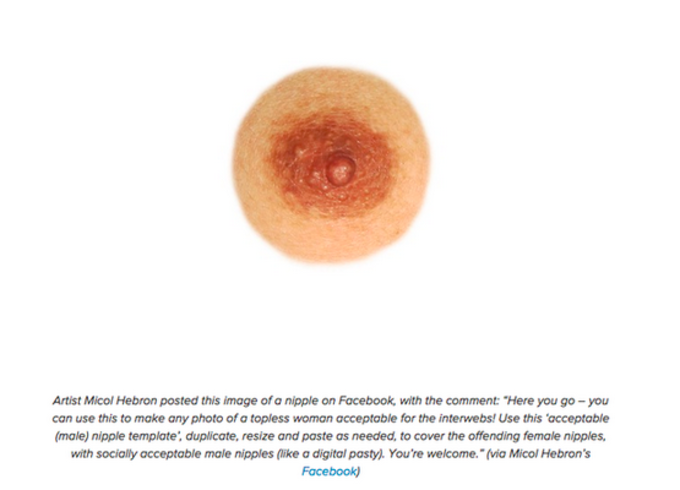 Back in August, she posted this photo of a huge male nipple covering her and another topless woman on Facebook with the caption: "Dear Instagram, Here, I fixed it." This week, her template went viral, and now women have been following her example and posting their own photos with male nipples photoshopped onto theirs. 
A photo posted by Siri (@siribifaller) on Jul 3, 2015 at 9:18am PDT
Some of these photos are still getting taken down, but that doesn't seem to be stopping the movement. There's several "free the nipple" accounts cropping up, and other groups have been protesting Instagram and Facebook in their own ways. For example, BuzzFeed reports that the "radical Ukranian feminist group" Femen recently launched a topless protest.  
A photo posted by #freethenipple (@free_the.nipple_) on Mar 1, 2015 at 11:56am PST
Instagram's rules say, "We know that there are times when people might want to share nude images that are artistic or creative in nature, but for a variety of reasons, we don't allow nudity on Instagram. This includes photos, videos, and some digitally-created content that show sexual intercourse, genitals, and close-ups of fully-nude buttocks."
And yet... there's Justin Bieber, with his fully-nude buttocks. Instagram has yet to take his photo, posted earlier tonight, down. 
[via BuzzFeed]