Alicia Keys Discusses Viral MTV VMAs Moment Where Lil Mama Crashed Her Jay-Z Performance
Alicia Keys appeared on 'Morning Hustle' and discussed the viral moment at the 2009 MTV VMAs when Lil Mama crashed her performance with Jay-Z.
Getty
Image via Getty/Kevin Mazur/WireImage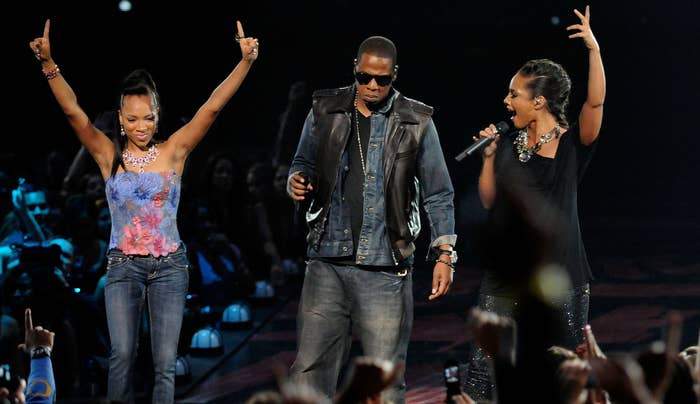 Back at the 2009 MTV VMAs, Lil Mama made quite the splash when she spontaneously joined Alicia Keys and Jay-Z onstage while they played their hit "Empire State of Mind." As Hov and Keys were performing Lil Mama danced up the stairs, got close to them, and stayed for the duration, even joining in on Keys and Jay's clearly rehearased song-ending pose.
Keys spoke on the moment during a recent interview with Morning Hustle, where the hosts jokingly asked if the 15-time Grammy-winner ever forgave Lil Mama for her transgression.
"Of course," Keys answered. "Listen, to this day, I truly never knew she was even on the stage—that's the craziest part of the whole thing for me. I was on that stage, Jay was in the middle, she was on the other side of Jay, and I never saw her. Never."
Keys continued, "That was wild to me. … That was then. She's from New York, too. I think she really felt the energy of the record and she loved it and she couldn't hold herself back. Look, this is what my music does to people. What can we say?"
Watch the Morning Hustle conversation with Alicia Keys below:
The moment went viral, spawning several memes. According to Revolt, the "Lip Gloss" rapper attempted to apologize to both musicians. "I entered the industry as a teenage Black girl from Brooklyn and Harlem, NY," Lil Mama told a fan. "These situations are with mature adults at least 10 years my senior. I reached out in private to create an opportunity for communication and clarity." It seems she never heard back.
Jay-Z addressed the incident just after it happened, telling Angie Martinez on Hot 97, "To interrupt that moment for us, I don't think that was the right thing to do. It was a lot of planning that went into that performance. To disrupt that was out of line."