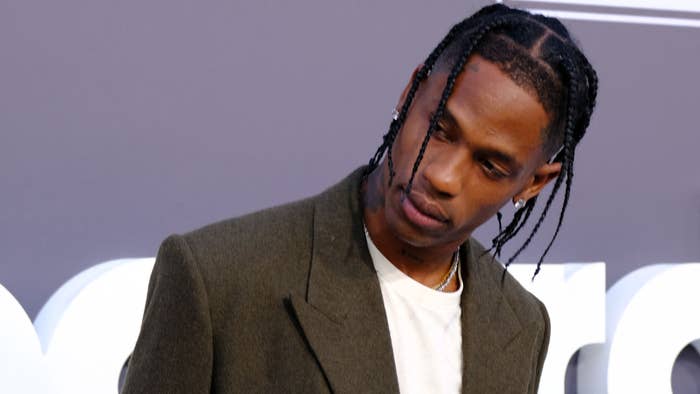 UPDATED 7/7, 9:40 a.m.: The attorney for Astroworld Festival victim Ezra Blount's family has spoken out about the Coney Island clip.
Alex Hilliard told TMZ, "[Travis Scott] knows exactly how to keep his fans safe during a concert, but the problem with that is he didn't just learn about the fact that he has control over the entire crowd. … There are 10 people that would still be alive today, including young Ezra Blount, if Travis realized his responsibility as an artist goes further than just trying to rile up his crowds, and it reemphasizes the rule of 'if you see something say something.'"
On Tuesday, a rep for Scott told Pitchfork, "Travis is committed to doing his part to ensure events are as safe as possible so that fans can have fun, and he encouraged fans to listen to requests from security and climb down from the lighting structures so that everyone would be able to safely enjoy last night's performance."
See original story below.
Travis Scott had a busy holiday weekend.
In addition to his previously reported appearance at Michael Rubin's July 4th party, Scott later performed for fans at Coney Island. Monday's performance was part of the Day Party: Independence Day event at Coney Art Walls. Also on the lineup were Meek Mill, DJ Spade, and Chase B.
While Scott was billed as being on the lineup in solely a "live DJ set" variety, footage shows him also hitting the mic, including for a rendition of his 2015 Rodeo single "Antidote."
At one point during his set, per a report from TMZ, Scott stopped his performance to advise fans to stop climbing up elevated beams used for lighting. In footage, he's also seen telling fans to take a couple steps back, as well as asking the crowd if they're okay.
Elsewhere this weekend, Scott returned to E11even in Miami for a late-night set that—per a Page Six report—saw him interacting with attendees mid-performance.
In June, Scott was reported to be performing at this year's Day N Vegas event, marking his first U.S. festival since last year's deadly crowd crush incident at his Astroworld Festival in Houston. The festival, however, was later canceled.
"We're sorry to announce that a combination of logistics, timing and productions issues have forces us to cancel Day N Vegas for 2022," organizers said in a recently released statement. "The refund process will begin immediately, and funds will appear back to you account within the next 2-4 weeks. All orders will be refunded to the credit card used to complete the purchase.