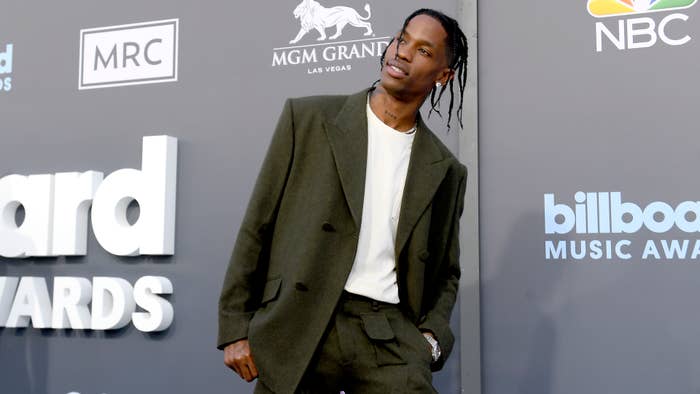 Update, June 26: A rep for Travis Scott says that the purchase of the $5.5 million luxury Bugatti was made in 2020. Per TMZ, "Misrepresenting a two-year-old car purchase to make an unprovoked and unjustified attack on Travis Scott is nothing more than another desperate publicity stunt to try to falsely blame Travis and intentionally manipulate public opinion, which won't work."
It seems that Travis Scott splurged millions on a new Bugatti amidst his Astroworld Festival legal trouble.
TMZ reports that the Houston rapper dropped $5.5 million on the luxury car—a Bugatti Veyron Chiron Super Sport to be exact—and the family of 9-year-old Ezra Blount who died from his injuries at the Astroworld tragedy isn't happy that Scott is flaunting his wealth in this fashion.
Ezra's family's attorney, Bob Hillard told TMZ that the child would be alive and well now if Scott "would've spent half of what he paid for the Bugatti on simple safety measures at the deadly music festival," the outlet writes.
While Hillard said that, of course, Scott should do what he pleases with his money, his latest purchase is "excessive" and that all of Travis' choices should be scrutinized because of the crowd-crush incident at Astroworld.
Ezra died a few days after being trampled at the festival and ending up in a coma. Prior to his death, his family sued Scott, Cactus Jack Records, Live Nation, as well as promoter ScoreMore Management for negligence. The suit accuses Astrworld's organizers of not stopping the concert urgently after a "mass casualty event" was declared.
A new court filing in May indicated that there have been over 4,900 injury claims connected to the 2021 festival. Included in this number are the 10 people who died after suffering from compression asphyxia, the 732 claims related to injuries that required extensive medical care, 1,649 for less-extensive treatment, and another 2,540 claims for injuries still being reviewed.