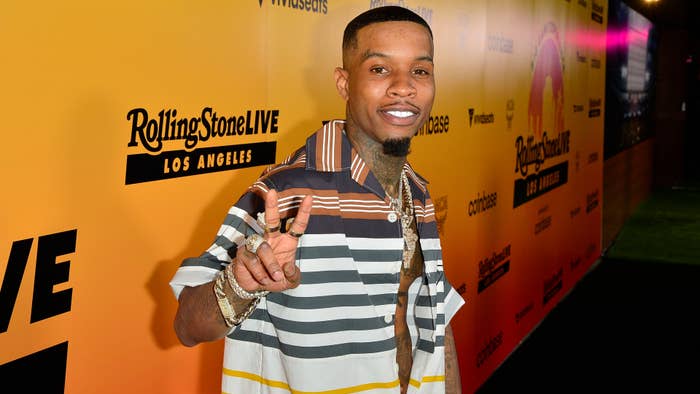 Tory Lanez was just sentenced to 10 years in prison over the 2020 shooting of Megan Thee Stallion.
In a statement on the sentencing, Los Angeles County District Attorney George Gascón reflected on the three years that have passed since the initial shooting, reiterating some of his past comments about the "bravery and vulnerability" shown by Megan.
"Over the past three years, Mr. Peterson has engaged in a pattern of conduct that was intended to intimidate Ms. Pete and silence her truths from being heard," Gascón said. "Women, especially Black women, are afraid to report crimes like assault because they are too often not believed. I commend Megan Pete for her incredible bravery and vulnerability as she underwent months of probing investigation and court appearances where she had to relive her trauma, and the public scrutiny that followed. This case highlighted the numerous ways that our society must do better for women. Thank you to Deputy District Attorneys Kathy Ta and Alex Bott, and Victim Services Representative Cecilia Zamora, who spent countless hours working to ensure justice was served for Ms. Pete. We also would like to thank the Los Angeles Police Department for their thorough investigation."
James Queally of the L.A. Times wrote that Judge David Herriford's sentence for the 31-year-old Canadian included six years for assault and four years on "a gun sentencing enhancement."
Preeminent court journalist Meghann Cuniff tweeted after the verdict saying Lanez—legal name Daystar Peterson—spoke for "several minutes."
"He said he still cares about Megan [Thee Stallion]," Cuniff wrote. "He called her 'someone I still care for dearly to this day' regardless of what she may think of him. He said 'the victim's my friend.'"
Cuniff quoted Lanez as saying, "We both lost our mothers. We would sit there and drink, and drink until we got numb." He reportedly added that, with regards to the shooting, "I said some very immature things that I shouldn't have said. I revealed some secrets I shouldn't have revealed."
TMZ added that the verdict elicited "serious pain" from Lanez's assembled loved ones, as "several members—including his dad and stepmom—shouted, 'This system stands before God!' Some of his family members were even escorted out of the courtroom."
Judge Herriford acknowledged that it was "difficult to reconcile" the Lanez who shot Megan with, the Associated Press writes, "the kind, charitable person and good father many people described Lanez as being during the sentencing hearing."
Jose Baez, a lawyer for Lanez, addressed reporters outside court on Tuesday.
"We're extremely disappointed that Tory did not get the sentence that we had certainly hoped for," he said, as seen in TMZ-shared footage below. "I think the sentence handed down was incredibly harsh. I have seen cases of vehicular homicide and other cases where there's death and the person still gets less than 10 years."
Baez also argued the case was an example of someone "being punished for their celebrity status," adding that they plan to appeal.
Sentencing was expected to wrap up on Monday but was postponed to Tuesday. During Monday's proceedings, notably, Cuniff reported that Judge Herriford had received more than 70 "letters of support" for Lanez. Among the letters was one from Iggy Azalea, who later spoke out about the letter being revealed, saying she "never intended to publicly comment."
Azalea also clarified the contents of the letter, noting that she does not "'support' anyone" but was instead calling for a more rehabilitative sentence in the case.
Also in Monday's hearing, Deputy District Attorney Kathy Ta read a statement from Megan Thee Stallion. In the statement, per USA Today, the 28-year-old said she "could not bring myself to be in a room with Tory again" after the shooting.
"Since I was viciously shot by the defendant, I have not experienced a single day of peace," Megan said in the statement. "Slowly but surely, I'm healing and coming back, but I will never be the same."
Tory Lanez was found guilty in the widely publicized case last December, with a jury convicting him on multiple charges including assault with a semiautomatic firearm. In a statement at the time, Gascón noted that Lanez was then facing a maximum sentence of more than 22 years behind bars.
"Women, especially Black women, are afraid to report crimes like assault and sexual violence because they are too often not believed," Gascó said in December.
While sentencing was initially slated for January, it was ultimately delayed. In June, for example, Cuniff reported that sentencing in the case had been pushed back to early August.
In May, Deputy Los Angeles County District Attorney Alexander Bott told reporters he was expecting Lanez to receive a sentence of at least nine years due to the nature of the conviction against him.
"So I would say that, any time you point a gun at someone and pull the trigger five times, that's an action that could easily kill a person," Deputy Los Angeles County District Attorney Alexander Bott said at the time. "I think that's an action that deserves serious consequences."
Earlier this year, Megan Thee Stallion spoke out for the "final time" on the shooting. In a piece for Elle in April, as told to Evette Dionne, Megan reflected on having "truly survived the unimaginable" over the past three years. She also shared a message for those in the industry who made light of the shooting or used it in their own work, saying "these individuals tried to justify my attacker's actions."
Days before Monday's sentencing, it was reported that Lanez's lawyers were arguing for probation in their client's case instead of time behind bars.