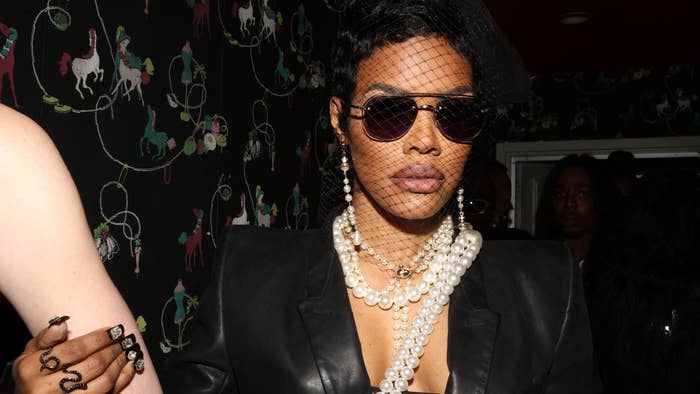 Wow. Another article about this? Yes indeed.
As you may or may not have seen via the usual sources for such things on social media, Teyana Taylor was briefly filmed dancing to a Chris Brown collab during Usher's set at the Lovers & Friends festival in Las Vegas this weekend. The short clip became a topic of discussion following initial allegations of an incident having broken out between Brown and Usher, with Taylor's name also having been pulled into the ensuing coverage.
In short, it had been alleged that Brown and his security team had jumped Usher after the former acted in a "disrespectful" manner toward Taylor at a birthday event. It was also initially claimed that Usher had hurt his face in the alleged incident, though the veracity of these claims were swiftly brought into question when he was later seen without any visible injuries. Furthermore, both Usher and Brown were on the bill for the aforementioned Vegas festival, with both of their sets moving forward as planned.
Now, some have pointed to footage of Taylor dancing to the track "Party" during Usher's set as further proof that all is well. See the clip below.
The coverage surrounding all of this, of course, is now hitting (or has already hit) an exhaustion point—both for the readers and for those tasked with drumming up at least 250 words on it in the name of traffic. To that end, I'm going to spend the rest of this particular article instead discussing Teyana Taylor's incredible performance in A.V. Rockwell's profoundly moving drama A Thousand and One.
The film, also written by Rockwell, won the U.S. Dramatic Grand Jury Prize upon its premiere at the Sundance Film Festival in January. As you'll recall, it was also featured among Complex's best of the fest coverage alongside other 2023 highlights including Infinity Pool, Shortcomings, and more.