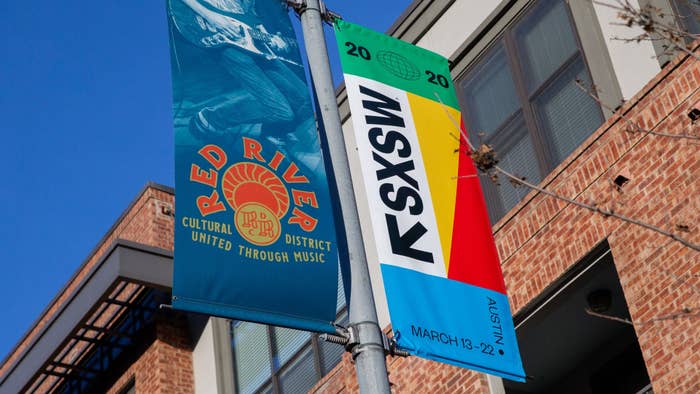 As is often the case when throwing down hundreds of dollars (or more) for entry into a multi-day music festival or similarly enticing event, the investment comes with the understanding that—as highly unlikely as such a scenario usually is—the whole thing can be called off at any moment for reasons not entirely in the organizers' control.
For those who were looking forward to the 2020 editions of SXSW in Austin and Ultra in Miami, a little bastard known as coronavirus fucked up the imminent fun. Having presumably (and albeit understandably) not thoroughly researched festival policies regarding traditional refunds in such a scenario, many would-be attendees were far from thrilled to learn that they would be offered no such thing.
SXSW-goers have been informed that 2020 passes can be deferred for entry to the 2021, 2022, or 2023 editions of the festival. Additionally, per the American-Statesman, virtual experiences and rescheduling options are still being explored for 2020. An email sent to 2020 attendees, meanwhile, stated that refunds will not be issued.
The fest's publicly available refund policy, in part, states the following:
SXSW does not issue refunds under any circumstances. Any and all payments made to SXSW are not refundable for any reason, including, without limitation, failure to use Credentials due to illness, acts of God, travel-related problems, acts of terrorism, loss of employment and/or duplicate purchases. SXSW will not issue refunds for Credentials that have been revoked.
An email sent to Ultra ticketholders, as pointed out byCoS, clarified that 2020 passes will be honored for either the 2021 or 2022 editions of the event. Organizers have also offered an added value package consisting of a merch discount code, exclusive discounted ticket access, and an equally exclusive DJ performance at a future edition of the festival.
Ultra's policy, in part, states (with less of a hard line on refunds in general) the following:
Upon Event cancellation by Event Organizer, Event Organizer may, in its sole and absolute discretion, elect to either issue a full or partial refund to Purchaser, not issue any refunds, or reschedule the Event. Upon the cancellation of the entire Event, including, but not limited to events not within Event Organizer's control, governmental acts, acts of God, riots, production delays, strikes, natural disasters, inclement weather (regardless of severity), or inaccessibility or unavailability of the Venue, Event Organizer may, in its sole and absolute discretion elect to either, (a) issue Purchaser a full or partial refund, (b) postpone the Event for a future date and/or (c) offer Purchaser a comparable "make good."
Still, some have taken their refunds-based frustrations to Change.org for petitions that had accumulated a few hundred signatures each at the time of this writing. That frustration has also carried over to Twitter, where those whose employment was affected by the SXSW scrapping, specifically, was also highlighted: