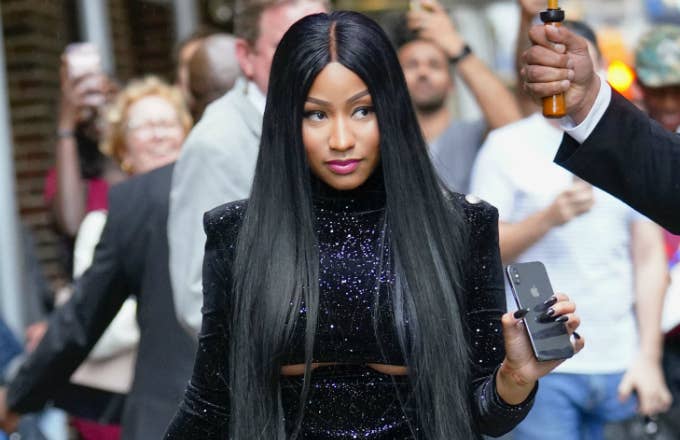 During the broadcast, Minaj again responded to questions from fans using the #Queen hashtag. Even luckier fans had the chance to join Minaj in the Apple Music studio after winning tickets. Tune in for the third episode of Queen Radio here.
Minaj opened the latest episode with Zane Lowe by paying tribute to Aretha Franklin, who died Thursday. "I don't think she ever made apologies for being not a queen, but the queen," Minaj said. Lowe then hit play on Franklin's classic 1967 single "Respect."
Later, Minaj and Lowe discussed the whirlwind week she's had since dropping a new album. "I've never released an album and got this much critical acclaim, especially from men," Minaj said before specifically shouting out Sway, Rob Markman, Elliott Wilson, DJ Clue, Funk Flex, and Stephen Colbert.
After a few release date switch-ups, Minaj's fourth album Queen hit streaming services last Friday. The 19-track album, her first in four years, notably features a flip of Biggie's "Dreams" in which she playfully targets everyone from Drake to 50 Cent. Minaj, however, doesn't characterize the track as diss-focused. "This isn't a diss," she said in a subsequent tweet, adding that the song should be "fun" for listeners.
On Thursday's Queen Radio, Minaj—as she did when discussing the track with Colbert on a recent Late Show—kept her answers largely detail-free when discussing the subject's responses. She did, however, confirm that she has not heard from Drake about his hilarious mention.