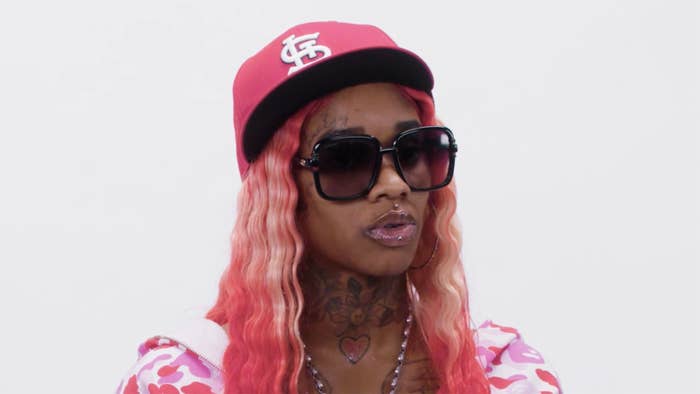 Thanks in large part to a single line—the widely quoted "My coochie pink, my booty-hole brown"—Sexyy Red's Tay Keith-produced "Pound Town" has become a bonafide viral hit.
As you've no doubt seen in recent weeks, the track has received a slew of co-signs—Cardi B, Post Malone, and Kai Cenat to name a few—all while building on the foundation of the St. Louis artist's past catalog, including her 2022 Summer Walk collab "Sense dat God gave you."
At the time of this writing, the official "Pound Town" video was at 1.5 million views on YouTube, while the more recent Spring Break Edition had topped 4 million views. An official live video of the track, captured in St. Louis, was at more than 206,000 views. On Spotify, where it recently topped the Viral Songs Chart, the track is currently nearing 4.5 million streams.
The 25-year-old Sexyy Red, whose real name is Janae Wherry, recently spoke with Complex's Eric Skelton about the song's ongoing success. Per Red, she and Tay Keith first linked up on Instagram, after which the producer eventually sent her the beat for what would later become the viral hit. Red also noted that she agrees with Keith's declaration that "Pound Town" could wind up being the song of the summer.
When asked to dig deeper into the story behind her hit song, Red—who's been making music since 2019—looked back on the fateful studio season.
"I was in the studio, just on some lazy stuff, and my people was like, 'Come on, you got more songs to record,'" she said. "And I'm like, 'I ain't got nothing wrote down, come on now.' So I went in the booth, and this was my first time ever freestyling. I heard the beat, and just started rapping from there. The whole thing was a freestyle."
This means the track's standout line, highlighted above, was also freestyled during that same session, as Red herself confirmed when talking about her approach to lyrics: "It was true! So I said it."
Of course, Red has also seen the memes that have been popping up in response to the ready-for-IG-captions line, and she finds them equal parts hilarious and surprising.
"I be seeing the memes, I be seeing the captions, and I be laughing every time," she said. "I ain't think that was going to be the part of the song that they liked, though. When I was first promoting the song, I was promoting a whole other part because I got a dance to it: 'Too many bitches, where the n****s at?' But then a snippet dropped and they heard the booty-hole brown part, which is when it went viral."