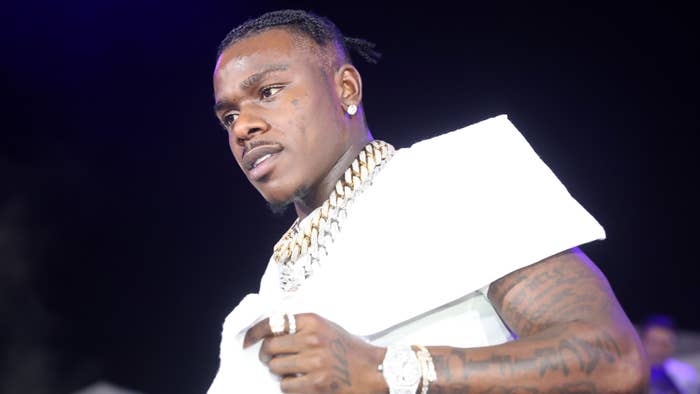 DaBaby's fatal 2018 shooting of 19-year-old Jaylin Craig is the subject of a new investigative report featuring previously unreleased footage.
On Sunday, Rolling Stone shared an extensive piece on the shooting, which DaBaby has claimed was carried out in self-defense. As previously reported, the shooting took place at a Walmart in North Carolina on Nov. 5, 2018. Last October, the shooting was mentioned by Dave Chappelle in his Netflix special The Closer.
In short, Craig's family—including his mother, LaWanda Horsley—have long taken issue with both the handling of the investigation and the self-defense claims from DaBaby. Police, for example, are alleged to have not interviewed "multiple people at Walmart" who are said to have been acquaintances of the Back on My Baby Jesus Sh!t Again artist and Henry Douglas. The latter was Craig's closest friend, and—as is the case with the shooting victim's family—he's said the incident in question began with DaBaby being annoyed by being recognized.
From there, DaBaby is alleged to have told Craig and Douglas they should go outside and fight, despite his own comments to police alleging instead that one of the two friends had been the first to make such a remark. Security footage, per the report, sees DaBaby punching "a blindsided Douglas" and later pulling out a Glock and shooting Craig. While Craig is also said to have had a gun on his person at the time, it's said to be "inconclusive" in terms of whether or not he was brandishing it when approaching DaBaby and Douglas mid-fight.
In 2019, DaBaby was convicted of carrying a concealed weapon in connection with the shooting. His self-defense claim also extended to the general public, including in an Instagram Live session shortly after the shooting. The Walmart footage at the center of the new Rolling Stone piece was included in a police file on Craig's case retrieved by Horsley last April. 
For Cheyenne Roundtree's full piece, click here. After the story was initially published, DaBaby shared a handful of tweets that appeared to be in response to it.
He later shared a more direct response, tweeting "cuz the media got they ass brainwashed" when Ebro Darden asked his followers, "Why are people acting like the 2018 video of Da Baby's Walmart incident wasn't already seen by Walmart, The Police and the courts?"