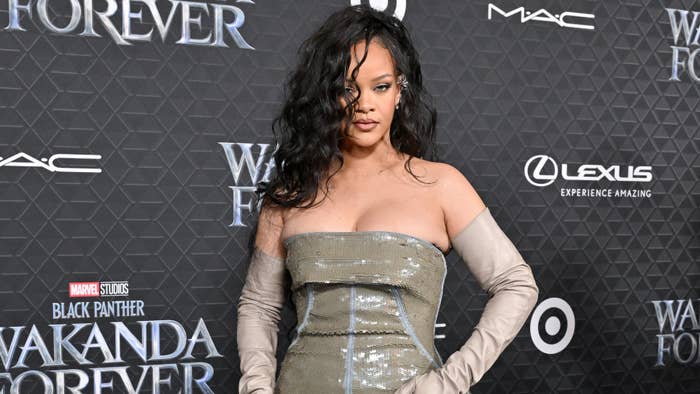 Ahead of the Prime Video premiere of Savage X Fenty Show Vol. 4, Rihanna fans have been given more insight on the inspiration behind the multihyphenate's plans for her Super Bowl Halftime Show performance next year.
Speaking with Terri Seymour for Extra, as seen below, Rihanna said it was "now or never" when it came to taking on the unique challenges of staging a performance at this scale.
"There's this weird shit that happens when you become a mom," Rihanna said around the 3:40 mark in the video below. "You just, you unleash or unlock other parts of your superpowers. You feel like you can take on the world. You can do anything, right? After you have a baby, you can do anything."
Adding to that, Rihanna pointed to the larger challenge at the heart of this type of performance and how she felt compelled to tackle it.
"It was one of those things where I wasn't really sure because it is a big stage and it has been a while, you know, but I wanted to take on a challenge," Rihanna said. "I wanted to do something that would force me to get back on stage, really. Because when you're a mom, it's not important really. Everything is at the bottom of the priority list."
As for whether she could reveal who may or may not be joining her at next year's Super Bowl Halftime Show, including ASAP Rocky, Rihanna noted that, for now at least, her "lips are sealed" when it comes to further announcements. In fact, Rihanna noted, she hasn't arrived at a final decision yet.
Earlier into the discussion, Rihanna spoke more generally about motherhood, calling it "fascinating" and "the most love" she's ever known (Rihanna and Rocky were revealed to have welcomed a child together, their first, back in May).
"I'm patient now," she said. "I thought I was getting better at patience but this will sit you down. You are forced to be patient as a mom, as a parent in general. Your tolerance goes down but your patience goes up, if that makes any sense somehow."
She also told the Washington Post why she hasn't revealed her son's name or shared a photo. "We just didn't get around to it yet really," she said, "We've just been living.
She added that perhaps "there's a certain freedom that comes with kind of just, like, getting it out there."
She also opened up about motherhood with Access Hollywood
[It's] not a chapter, it's like a new book," she told the outlet. "Life starts over when you become a parent, it's life that you've never known before."
Elsewhere, Rihanna was asked about new music and was also tasked with politely declining to give an answer to an inquiry of the wedding variety. See more below.
In a separate interview conducted amid the same Savage X Fenty Show Vol. 4 proceedings, Rihanna spoke in greater detail about her plans for more new music following her recent return with a Black Panther: Wakanda Forever soundtrack single. After pointing out that it is "not true" that she wouldn't have done the Super Bowl without new music also being on the horizon, Rihanna shared a special message for fans.
"Super Bowl is one thing, new music is another thing," she said around the 3:41 mark in the video below, per the Associated Press. "Do you hear that, fans? Because I knew, the second I announced this, they're gonna think my album is coming. I need to get work. But I do have new music coming out. But we'll see. Unrelated, but a special project."
Revisit the official "Lift Me Up" video here. The 2023 edition of the Super Bowl Halftime Show is set for Feb. 12. As is tradition, footballing will also take place on the same date.