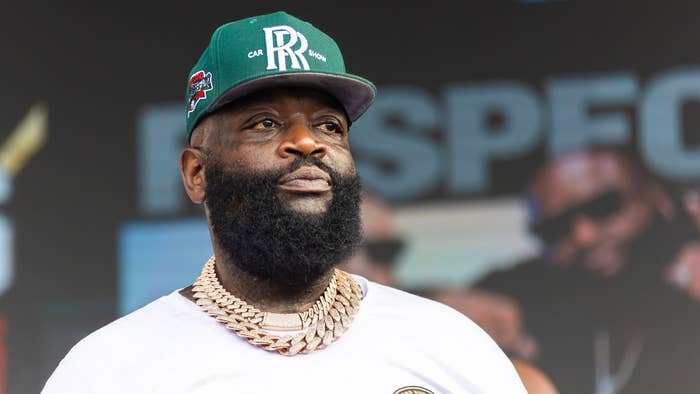 Despite its many potential pleasures, ass-eating isn't on Rick Ross' bedroom agenda.
The reliably headlineable topic was broached in a recent episode of the Beyond the Chair podcast with Destine and Trishonna, resulting in the reveal of an anti-anilingus stance from Ross, who also offered up some candid remarks about watersports.
When asked around the 24:50 mark in the video below if anything is "off limits in the bedroom" for him (including, for example, the eating of ass), Ross detailed his personal preferences.
"Nah, I don't really have no taste for ass, nah," Ross said. "I know what I like and I usually avoid the ass. … I'm just letting you know, that ain't a Rozay thing right there."
When the hosts noted they respected this position while not agreeing with it, Ross brought in the topic of piss play.
"That's cool too but I want you to respect getting peed on from the neck down, and if I splash your face," he said.
Elaborating further on what he enjoys, sexually speaking, Ross also suggested he's not a fan of anything bondage-related either.
"Chicks done asked me, 'You ever watched 50 Shades of Grey?' Nah baby, I ain't watching 50 Shades. … We ain't gonna watch that," he said. "I'mma have the weed lit, that goddamn Anita Baker gon' be playing and I may tug on that ponytail a little bit. And if your eyelashes end up on the marble floors, that's cool too."
See more below.
In June, Ross was featured on French Montana and Harry Fraud's Montega album alongside Babyface Ray, EST Gee, Jadakiss, Benny the Butcher, Quavo, Chinx, and Fleurie. Ross' most recent solo studio album, meanwhile, was last December's Richer Than I Ever Been.
Ahead of the album's release, Ross spoke with Jessica McKinney for Complex and stated he considered Richer Than I Ever Been to be his strongest project yet. "I'm on some shit," he said at the time. "I felt there was some shit I could do different coming off of Port of Miami 2."
Revisit the full discussion here.