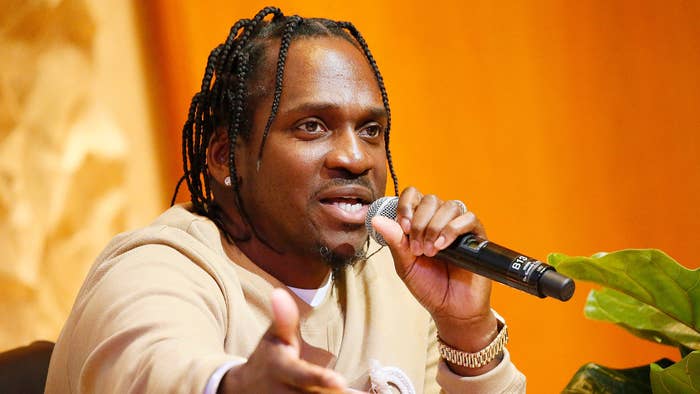 As we all plow ahead during a global pandemic, few things can bring as much stuck-at-home joy as some new and uncut content from Pusha-T.
This week, King Push joined up with fans for an AMA via Discord. While the full interview is certainly worth taking up some of your social distancing schedule, some points worth highlighting are excerpted below for the sake of articles and whatnot.
Around 11 minutes into the discussion, Pusha was asked about what he's been working on recently, prompting the DAYTONA artist to reveal he's actually working on three new projects.
"I'm working on that right now, actually," he said. "I'm actually working on three projects right now. So, you know, with everything that's going on in the world right now, of course we're not all together. But I'm well in on my next project." As things currently stand regarding his next release, features aren't in the cards. "It's looking kind of selfish right now, to be honest . . . I got a lot to say, man. A lot's went on. A lot to address."
Later, around the 25-minute mark, the previously-revealed-to-Complex fact that he's been working with Madlib was broached. Pusha didn't throw out too many details, though he did tease that a "hard drive full of gems" is already in existence.
"We're cooking," he said. "That's really all I can really say about it . . . You know, with me and producers, to me it's like I'm going to school. So he's just like another teacher to me."
Previous collaborator Tyler, the Creator is also mentioned here. According to Pusha, Tyler recently sent him a collection of approximately nine different beats, none of which veer in the more experimental direction of the Grammy-winning IGOR.
"I make him go straight hip-hop, like, full-fledged. It's full ignorance . . . I don't wanna experiment," he said around 28 minutes into the Discord AMA. For now, Pusha added, it's all about crafting "the filthiest of hip-hop" as part of his larger goal of having "one of the greatest discographies in rap."
Catch the full interview below to hear Pusha field inquiries on additional topics of GOOD interest including Kanye West, Child Rebel Soldier, and more. Of course, a Drake-related question also made its way in, though it received no answer.