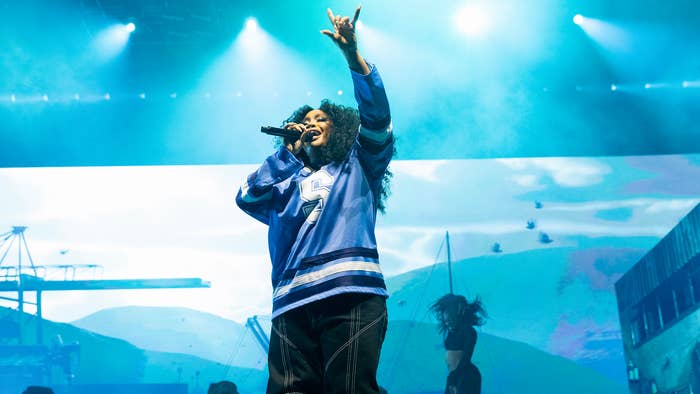 SZA's ultimately scrapped "Snooze" performance at this year's MTV Video Music Awards was less about any particular nomination and more about "disrespect," so says Top Dawg co-president Terrence "Punch" Henderson.
As previously reported, Punch wasn't happy that SZA was left out of the Artist of the Year category at the 2023 VMAs ceremony. In a new Rolling Stone cover story on SZA, the frequently-in-headlines manager again addressed the situation, this time referencing a much-discussed 2018 NBA moment involving Laura Ingraham and LeBron James.
Per RS writer Mankaprr Conteh, Punch said MTV "wouldn't engage" when it came to discussions about the category snub.
"That was the disrespect," he said. "It wasn't not getting nominated. The ultimate disrespect is you don't even want to discuss why she wasn't nominated or what the criteria was."
Elaborating further, Punch alleged that MTV pointed to SZA's other nominations when he broached the topic.
"And to me, that felt like, 'Shut up and dribble,'" Punch said in the new piece.
Complex has reached out to a VMAs rep for comment. This story may be updated.
While SZA didn't get into VMAs-related specifics in the feature, she did mention the show more generally while pointing out the variety of invitations she was learning to accept.
"For all that shit we have coming up, like the [magazine] covers, performing at the Grammys, performing at the Country Music Awards, at the VMAs — things that I would normally say 'Fuck no' to because I'm terrified — I'm thinking that I'm going to say yes to because it might change my life," she said.
Speaking more on the Grammys, both in reference to her own experience at the 2018 ceremony and more generally, SZA pointed to the prevalence of "wanting" among that part of the industry.
"The Grammy room is one of the weirdest rooms ever," she said. "There is so much wanting in there."
SZA also looked back on how it felt to perform at the 2018 ceremony after losing in her five nominated categories, including Best New Artist. Earlier into the night, SZA recalled, Tyler, the Creator told her it'd be "so fucking weird" and "terrible" if she lost everything but was still asked to perform.
SZA is currently fresh off the release of her and Drake's "Slime You Out," their first collaborative track together. It arrives as SZA continues her run of expanded North American dates in support of SOS, her acclaimed sophomore album. Next up are shows in Toronto, Brooklyn, Chicago, and St. Louis.
"Slime You Out" was joined on its Sept. 15 drop date by the surprise arrival of a Justin Bieber-featuring acoustic version of the aforementioned "Snooze." Bieber, of course, was previously among the stars of the original "Snooze" video.