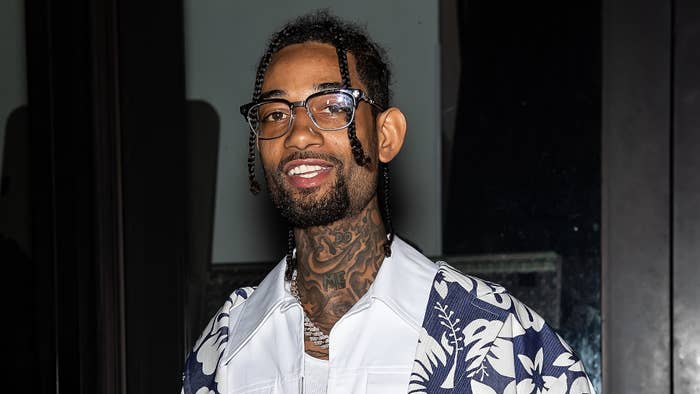 UPDATED 9/29, 6:45 p.m. ET: Freddie Lee Trone has been arrested. The 40-year-old was detained in Las Vegas on Thursday, per the local Fox affiliate.
UPDATED 9/29, 4:03 p.m. ET: L.A. County District Attorney George Gascon made the announcement Thursday to formally charge Freddie Trone and his 17-year-old son for the murder of PnB Rock. They were both charged with one count of murder and conspiracy to commit robbery as well as two counts of second-degree robbery.
UPDATED 9/28, 2:28 p.m. ET: According to the LAPD, a 32-year-old woman named Shauntel Trone was arrested and booked for accessory to murder in connection to PnB Rock's death.
Freddie Lee Trone, the third suspect and father of the 17-year-old that was arrested on Tuesday, is still being pursued by authorities.  

See original story below.
An arrest is reported to have been made in connection with the ongoing investigation into the murder of PnB Rock.
Per a regional NBC report, the Los Angeles Police Department has "made at least one arrest" in the case. A second individual alleged to have been involved in the murder, identified as Freddie Lee Trone, is said to still be at large.
TMZ also reported on the identification of Trone, adding that police have described him as "armed and dangerous." According to the publication, citing law enforcement sources, the person that was arrested was Trone's 17-year-old son. TMZ added that the minor is suspected of being the shooter and that both the father and son were in the parking lot of Roscoe's before PnB arrived at the restaurant. The getaway car, which was allegedly driven by the elder Trone, was also said to be burned following the fatal shooting. 
Complex has reached out to an LAPD rep for additional comment. 
PnB Rock, 30, was fatally shot during a robbery at a restaurant in Los Angeles on Sept. 12. "The victim was sitting at a table eating with a female witness when he was approached by the suspect," LAPD Captain Kelly Muniz said at the time, adding that the suspect ultimately "brandished a firearm and demanded his property."
Drake, Nicki Minaj, Trippie Redd, Meek Mill, YG, and more later paid tribute to Rock. In a since-removed IG post, Trippie remembered Rock's early words of encouragement and proposed that record labels should take on the responsibility of hiring guards for artists.
"That's one thing I used to tell [XXXTentacion] is let's stop riding around in the i8 just me and u," Trippie said.
Cardi B took to Twitter on Wednesday, arguing PnB Rock's girlfriend deserves an apology in light of the aforementioned TMZ report that Trone and his 17-year-old son were in the parking lot of Roscoe's prior to the rapper's arrival.
"Told y'all……Yall must not know how the hood moves," Cardi wrote. "Y'all owe that girl a apology for the shit y'all put her through knowing that she saw her baby dad die in her face….Social media investigators YALL SUCK!!!!" 
After news of the shooting surfaced, social media got swept up in the narrative that the incident occurred because PnB's girlfriend included a tagged location in an Instagram Stories post showing off her Roscoe's order.