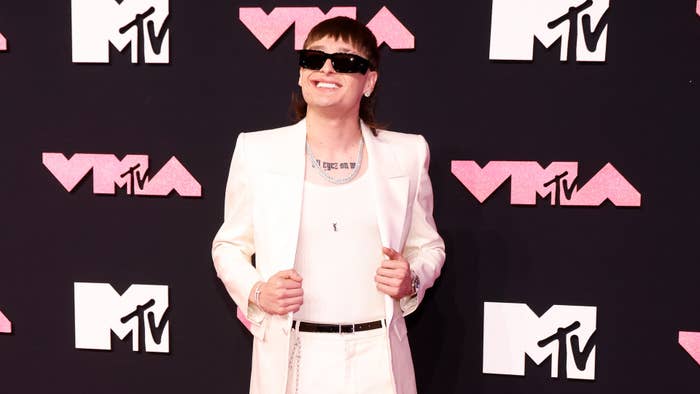 UPDATED 9/21, 1 a.m. ET: Peso Pluma has canceled his show in Tijuana, Mexico next month after receiving death threats, presumably from the Jalisco New Generation Cartel.
In a statement shared on the Instagram Stories of Pluma and his label Prajin Music Group, the Oct. 14 stop at Estadio Caliente on the Doble P Tour was canceled as a security precaution for the artist and his team, as well as attendees.
"Our objective is to protect the fans and the team," the statement reads, as translated by USA Today. "For the security of everyone involved, we will be canceling our show in Tijuana. Many thanks to all of our fans for understanding. We love you."
Several banners were displayed throughout Tijuana last week, warning Pluma that if he went ahead with his show in the city, it would be his "last performance because you're disrespectful and [your] loose tongue."
See original story below.
Peso Pluma has postponed multiple tour dates amid continued coverage of alleged death threats against him in Tijuana from the Jalisco New Generation Cartel.
A quick look at Ticketmaster listings shows that previously scheduled stops in Indiana, Alabama, Illinois, and Wisconsin have been "postponed" for undisclosed reasons.
"The Event Organizer has had to postpone your event," a message on the ticket pages for the affected dates reads. "Please hold onto your tickets as they will be valid for the new date."
With these postponements, the next tour date still listed as moving forward is Reno, Nevado on Sept. 28 followed by a run of California dates. The Tijuana performance that's been the subject of numerous headlines this week is not currently listed on the tour dates section of Pluma's official website, though it was notably reported as still being on Pluma's schedule as recently as Wednesday.
In an interview with Eddie Francis for New Music Daily on Apple Music 1 back in June, Pluma detailed the immense gratitude he felt regarding his U.S. touring success.
"At the beginning of the tour, I wasn't expecting that much love in the northern states because, as you go more in the north, it is more difficult to find more people that like my music and like my style of art," Pluma, then fresh off the release of his Génesis album, said at the time. "But I think it's going too crazy. … We just enjoying the moment, and enjoying every city, and enjoying every kind of support that people is giving us."
As previously reported, per the Arizona Republic, the death threats against Pluma arrived in the form of banners that read, in part, "refrain from presenting yourself on October 14, because it will be your last show due to your disrespect and loose tongue."
The message was credited to the Jalisco New Generation Cartel, widely known as a rival to El Chapo's Sinaloa Cartel. Pluma has made several references to El Chapo in his lyrics, including in the track "Siempre Pendientes."