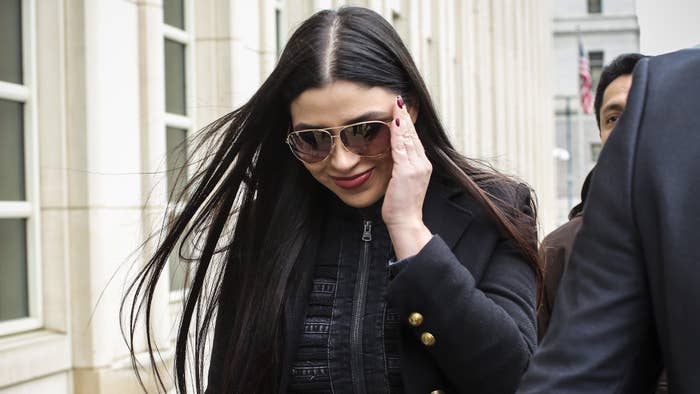 Joaquin "El Chapo" Guzmán's wife Emma Coronel Aispuro is set to be released from prison, CBS News reports.
Coronel Aispuro, who was arrested in February 2021 on international drug trafficking charges, is scheduled to be released from custody on Wednesday. The former beauty queen is a dual U.S.-Mexico citizen and pleaded guilty to assisting her druglord husband run the infamous Sinaloa drug cartel in June 2021. She was sentenced to three years in prison that same year after pleading guilty to three federal drug charges.
Coronel Aispuro was previously held at FMC Carswell but was transferred to Long Beach Residential Reentry Management in California earlier in May. "For privacy, safety, and security reasons, we do not elaborate on specific release plans," said a Bureau of Prisons official. She is potentially facing years of supervised release after she is released from prison.
Prosecutors on the case sought a four-year sentence against Coronel Aispuro, although U.S. District Judge Rudolph Contreras argued that her role in the Sinaloa drug cartel was comparatively small compared to her husband's. Her attorneys also argued that the now-34-year-old was only 17 when she first met her husband, whom she married the day she turned 18. "This began when she was a very impressionable minor married to a powerful man more than three decades older," said her attorney, Jeffrey Lichtman.
Her husband is currently serving a life sentence following his February 2019 conviction on murder conspiracy and drug charges. As part of the sentence, he forfeited $12.6 billion in profits he made from drug trafficking. He is currently being held at the supermax federal prison United States Penitentiary Florence in Colorado.
At the start of the year, El Chapo's son Ovidio Guzmán was arrested in Mexico on drug trafficking charges. Authorities described him as a "high-ranking member of the Sinaloa cartel." He was previously arrested by Mexican authorities in October 2019 but was released by President Andrés Manuel López after Sinaloa cartel members took control of the city of Culicán. 29 individuals were killed in the capture.
According to the Justice Department, three of El Chapo's sons were said to have ordered Sinaloa cartel members to torture victims with corkscrews, electrocution, and hot chiles. Some of their enemies have allegedly been "fed dead or alive to tigers."