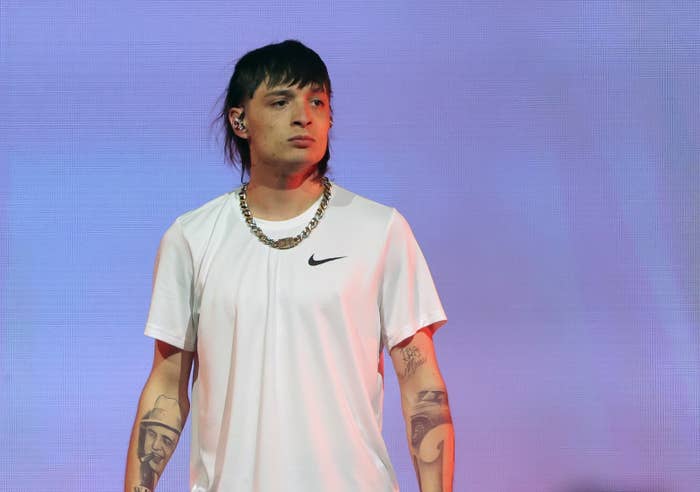 Peso Pluma's upcoming concert in Mexico next month may be cancelled due to a threat on the singer's life.
On Sunday (Sept. 10), the 24-year-old Mexican superstar was the closing act of the two-day Festival Arre in Mexico City. During his performance of the corrido song "Siempre Pendientes," Pluma held out his microphone to a crowd of roughly 100,000 concertgoers and sung out the initials "J-G-L" in Spanish to reference Joaquín Guzmán Loera, otherwise known as El Chapo. The lyrics are written from the perspective of a member of the Sinaloa Cartel as he sings, "I take care of the plaza of señor Guzman."
However on Tuesday morning, four narco mantas, or criminal organization banners, emerged in various parts of the city of Tijuana, where Pluma is set to perform on Oct. 14. "This is for you, Peso Pluma. Abstain from performing on Oct.14 because it will be your last performance because you're disrespectful and [your] loose tongue. Show up and we will fuck you up," said the handwritten signage signed by CJNG (Jalisco New Generation Cartel).
Peso Pluma, born Hassan Emilio Kabande Laija, is one of Mexico's breakout stars and is widely known for blending traditional Mexican ballads with contemporary elements like hip-hop and trap. His single "Ella Baila Sola" with Eslabon Armado helped him cross over to international audiences. The single hit the top spot on Billboard's Global 200 chart, making it the first regional Mexican song to do so, and later was dubbed Spotify's most-streamed song globally of the summer.
Some of Pluma's songs openly reference cartels and drug kingpins but it's a subject he's notoriously avoided discussing in the recent past. He infamously hung up on Suzy Exposito from the Los Angeles Times in May when asked about his earlier hits.
Last night, Pluma performed his single "Lady Gaga" at the MTV Video Music Awards where he was nominated in the categories Best New Artist, Best Latin, and Song of the Summer.
Pluma is currently on his Doble P Tour which brought him to U.S. for the first time to play major markets such as Seattle, Los Angeles, Las Vegas, Phoenix, and New York City. The U.S. leg of the tour wraps on Oct. 21 in Anaheim, California with Mexico concerts happening interstitially.
Pluma and his label have yet to comment on the threats and tickets for the Tijuana concert were still available for purchase at publishing time.