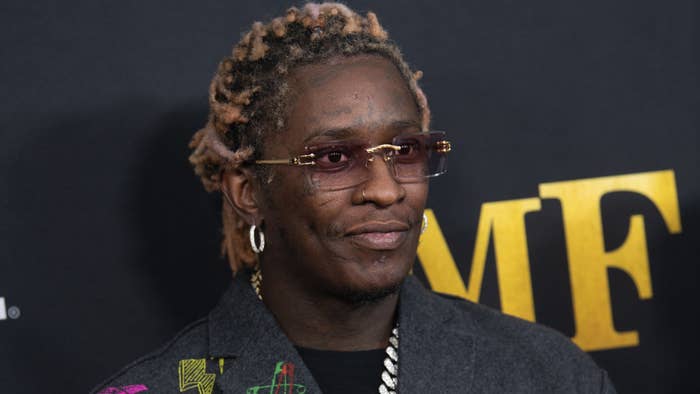 Young Thug's upcoming album Punk, uniquely stylized as P*nk, was previewed during Givenchy's Spring/Summer 2022 show over the weekend. 
Ahead of the visually commanding show, creative director Matthew M. Williams alerted fans to the collaborative effort, saying the YSL Records founder had been enlisted to provide the soundtrack for his first physical Givenchy show. The score, Williams said, had him "honored and excited" about rolling out the collection.
"Honored and excited to announce the soundtrack for my first physical @givenchyofficial show tonight is an original score by my friend @thuggerthugger1 with unreleased music from his upcoming album PUNK," Williams said.
Befitting the title and loose theme of Thugger's current period, the new tracks featured in the score boast a sense of melodic immediacy, swiftly lodging themselves in your brain with a single listen. First up is the tentatively titled "Hate the Game," which was previously teased in a Travis Barker-featuring Tiny Desk session.
Of particular note here is the unveiling of a new Elton John and Gunna collab, a track possibly titled "More" that shows up in the soundtrack selection closer to the end of the Givenchy show. This song, however, is not slated to appear on the new album.
Key music-related timestamps from footage of the show—available below—include the one-minute mark, the 9:30 mark, and around 14:25:
P*nk is due Oct. 15.
In related Givenchy news from the weekend, Kid Cudi—who recently linked with Thugger and Strick for the "Moon Man" video—was in Paris for the weekend's Fashion Week festivities. On Sunday, Cudi co-hosted another Entergalactic-focused experience with Richie Akiva.
On Oct. 16, just one day after P*nk drops, Young Thug is set to perform on a Rami Malek-hosted episode of Saturday Night Live. Here's hoping he'll once again enlist the percussive power of Barker.