Lil Uzi Vert Resilient Amid 'Eternal Atake' Drama: 'I Won't Let It Get 2 Me'
Uzi can do all things through Uzi who strengthens him.
If you thought any of the increasingly confusing bullshit surrounding Eternal Atake was going to get to Lil Uzi Vert, you thought wrong.
Early Wednesday, Uzi provided fans with a characteristically cryptic update in the form of an Instagram Story update. Without naming names, the "Free Uzi" anthem conductor took aim at the most recent methods of his detractors. "For everybody that thought I was done and thought they was gonna end my career," Uzi wrote, "I WONT LET IT GET 2 ME just keep working uzi."
The message, which sadly wasn't accompanied with a photo, arrived mere hours after a previous Story update in which a presumably pampered cat is seen receiving a warm "Hi sir" greeting. See a screenshot of Uzi's message below. For reasons of journalistic integrity, we have also included the aforementioned cat.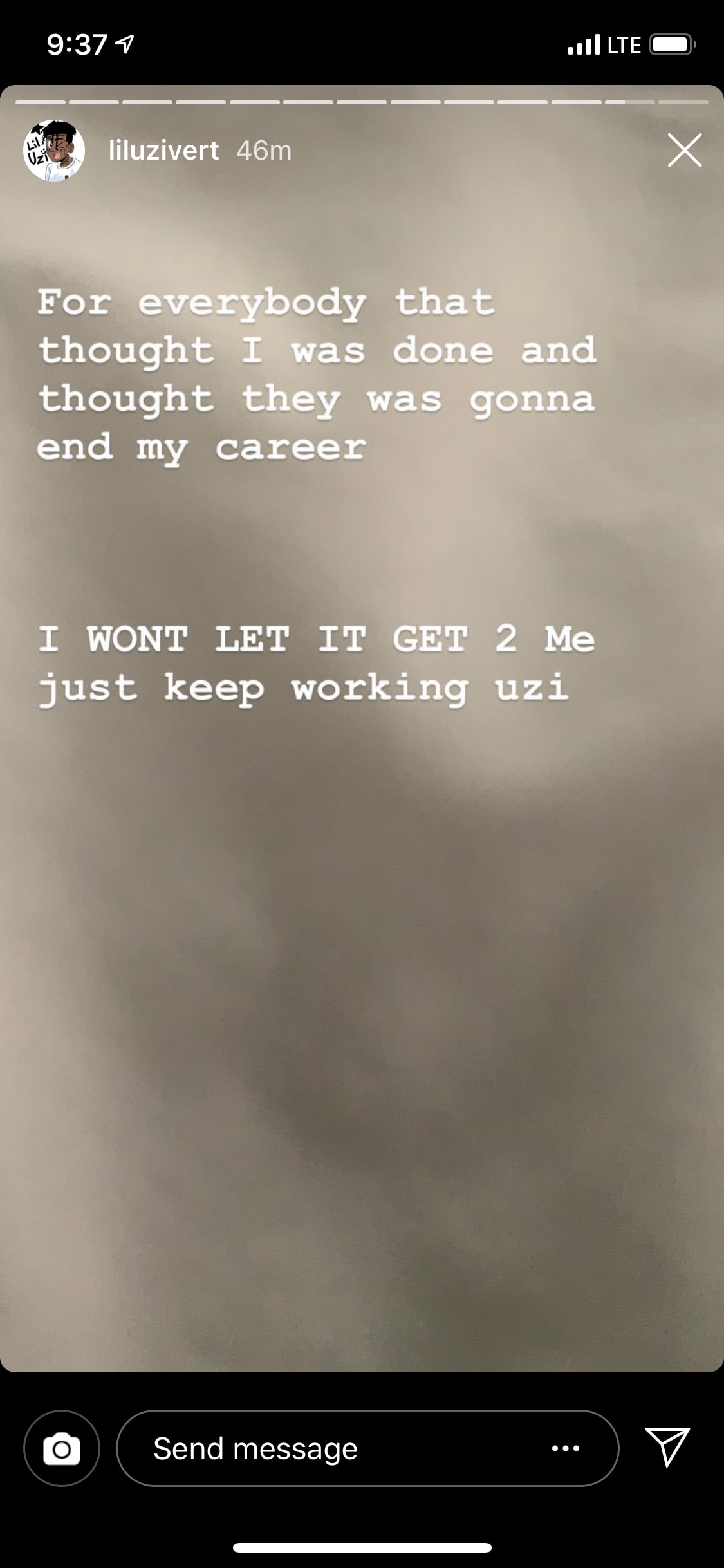 Of course, this could also be read as a note to self of sorts. After all, Uzi himself announced a purported exit from music back in January when he told fans he was "done" and had scrubbed his harddrives. One month later, he said he was "happy and retired."
In semi-related Instagram happenings, Uzi also shared this on Wednesday:
The recent release of "Free Uzi," which arguably already ranks among Uzi's best, has been surrounded by a number of developments that may or may not affect the release of Uzi's presumed next project Eternal Atake. Most recently, in response to a Faderinvestigation on crowdfunded leaks, a Generation Now rep said the album will be released "when Uzi turns the album in."
As is obligatory at this point in the extended Eternal Atake news cycle, here's your near-daily reminder that—at one point in its development—the follow-up to Luv Is Rage 2 was (is?) going to feature noted Uzi chain inspiration Marilyn Manson.
After all, there's quite possibly nothing more eternal than the atake found in Manson moments like the one below. Let's get this energy in 2019.